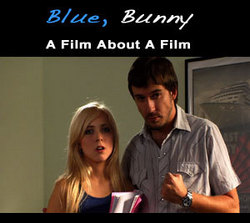 is the use of some elements of a prior author's composition to create a new one that, at least in part, comments on that author's works.
Los Angeles, CA (PRWEB) October 1, 2007
"Blue, Bunny," a short film by Cush, tells the story of an indie filmmaker who attempts to get an actress to engage in a certain intimate act in front of the camera -- assuring her that it's all in the name of art.
If that scenario sounds familiar, it's because such a scene made Vincent Gallo's film "The Brown Bunny" notorious. Gallo, the writer-director, also portrayed the character on the receiving end of said act.
L.A. filmmaker Cush, AKA Jim Cushinery, decided to create a playful satire imagining what might go on behind the scenes in a fictionalized version of such a production.
In "Blue, Bunny," ingénue Corey has landed her breakout role in the latest opus written, produced, directed by and starring bad-boy auteur Vic Salvestrin.
Early one shooting morning, Corey discovers that Vic has made changes to the script -- changes that require her to go far beyond the call of duty in her role as Iris, the love interest of Buck (played, coincidentally, by Vic). The young, naïve actress struggles to find her personal and professional boundaries as Vic attempts to manipulate her into a very compromising position.
Proud of his film, Cush posted a trailer to promote it on YouTube -- and on Sept. 25 was stunned to learn in an email from YouTube that a complaint from Gallo had resulted in the trailer being pulled from the popular video site. The trailer's YouTube webpage now displays a notice that the video is "no longer available due to a copyright claim by Vincent Gallo."
"It's a joke, because 'Blue, Bunny' is as clear an example of fair use as could possibly be imagined," Cush points out. "Satire has been protected as such in several landmark legal decisions*. Without that protection, there would be no Simpsons, Mad Magazine, Saturday Night Live or countless other classic parodies."
Cush has asked YouTube to allow the trailer to be reposted, but the site had not responded to his request at the time of this release. In the meantime, he invites indie-film fans and lovers of free speech to visit the "Blue, Bunny" page on MySpace.com/bluebunnymovie
*According to Wikipedia: Although a parody can be considered a derivative work under United States Copyright Law, it can be protected under the fair use doctrine, which is codified in 17 USC § 107. The Supreme Court of the United States stated that parody "is the use of some elements of a prior author's composition to create a new one that, at least in part, comments on that author's works." That commentary function provides some justification for use of the older work. See Campbell v. Acuff-Rose Music, Inc.
In 2001, the United States Court of Appeals, 11th Circuit, in Suntrust v. Houghton Mifflin, upheld the right of Alice Randall to publish a parody of Gone with the Wind called The Wind Done Gone, which told the same story from the point of view of Scarlett O'Hara's slaves, who were glad to be rid of her.
# # #