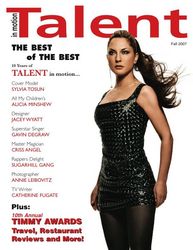 Let's Put on A Show!
New York, NY (PRWEB) October 3, 2007
Talent in Motion Magazine (http://www.timmag.com) is a quarterly published arts and entertainment magazine addressing an industry where the worlds of fashion, film, art, music and nightlife converge. A constantly evolving publication, TIM includes articles on emerging artists, with a focus on celebrity events, fashion editorials, advertorials and up-to-date information on health & fitness, food, wine and spirits, and hotel and travel destinations. Read by trendnsetters whose earning power is a vital brand-building force in then market today, Talent in Motion Magazine is the fusion between talent and the markets which serve them.
Talent has entered it's 10th year under the guidance of A. Brooks, Publisher and Editor-in-Chief who recognized the need to provide a platform to showcase emerging talent, increase exposure and assist in the marketing of the magazine. Herself a poet, "Brooks" was educated at Columbia University and felt the demand to create a magazine to promote the arts.
Guest Editor and Contributing Celebrity Photographer, Stephanie Parker collaborated with Brooks to produce a bountiful 2007 Fall Issue that features reprinted articles from the past 10 years as well as fresh material to reflect the constantl changing art and entertainment scene around the globe.
Embracing a camera at the ripe-young age of seven, Parker learned her photo-journalistic skills in high school and specialized in apparel design in college. She began to find pleasure in documenting celebrity and cultural lifestyles having traveled in over twenty-four countries and tracking the New York City art scene. Parker now considers herself a blend of paparazzo and society photographer with a touch of influence from the late Helmut Newton to whom she was a muse.
In this issue, Parker offers a rare insight into the life of music-icon and co-founder of Atlantic Records, Ahmet Ertegun combined with her coverage of the 2007 Rock and Roll Hall of Fame Awards. While documenting of the 2007 Songwriters Hall of Fame Awards, Parker captured "The Golden Songstress" Dolly Parton and Brooks engaged in a private conversation! Images on her celebrity photography page range from a glowing H.S.H. Prince Albert II of Monaco posing with Scott McClintock (producer of film Alien Technology) taken in 1992, the sapphic, sexy models at the 2000 Cannes International Film Festival; the "daring darling" of CNN, Anderson Cooper and the dignified Mayor Dinkins (flanked by Toni G. Fay and Chester Higgins Jr.) at the recent Gordon Parks Awards Dinner; Vinny Parco, a top P.I. cavorting with Brooks and rounded off with the effervescent Lord Maurice Saatchi, an honoree at the St. George's Society 237th annual English Ball. (http://www.stephanieparker.com)
To create this special issue, Brooks rifled through her vast database of favorite articles she has garnered in the past ten years. Reprinted articles include personalities Sylvia Tosun, Gavin Degraw, Criss Angel, Kim Thompson, Rick Younger, Laura Lifshitz, Robert De Niro & Joe Pesci "look-a-likes" Mario Occhione & Joe Manuella and "Octogenarian Party Animal" Walter Monheit... Brooks can certainly say, "I knew them first!"
New feature articles elaborate on Alicia Minshew (All My Children), Jacey Wyatt (Designer), Sugarhill Gang (Rappers Delight), Annie Leibovitz (Chief Photographer of Rollling Stone magazine from 1973-83) and Catherine Fugate (Lifetime TV's Army Wives).
The primary focus of the new issue is on Sylvia Tosun, cover model. Sylvia is one of the most prolific and accomplished independent Singer/Songwriters of this generation. Since Talent's original feature on her a few years ago, she has progressed further into the pop-music firmament, having had her music featured in television shows shch as: Dawson's Creek, Beautiful People and the L-Word, as well as at the top of the Billboard Charts in the top 10 position.
Sylvia Tosun's passionate voice, multi-lingual delivery and mesmeric stage presence have attracted the attention of world-class productions such as withnthe Trans-Siberian Orchestra and WOW Concert Series "The Great Wall Concert," where she sang atop the north tower of the Great Wall in Mandarii Chinese. Sylvia has appeared along side of Alicia Keys and Cyndi Lauper. Her original album, "Jump In," was released to international critical acclaim and led to her HD/5.1 production: The Venus Concert. The Songwriters Hall of Fame and BMI awarded her with the Excellence in Songwriting Award. Sylvia is featured in the upcoming movie, "My Father's Will," starring Ione Skye, Victor Alfiere and Ron Silver. Please check out http://www.sylviatosun.com & http://www.myspace.com/sylviatosun.
Additional articles in the new issue feature Broadway's Stewart Lane's New Book, "Let's Put on A Show!", A Tribute to Ahmet Ertegun Founder of the Rock and Roll Hall of Fame, Focus on Dolly Parton at the 2007 Songwriters Hall of Fame Awards, Portrait Artist Kathrina Miccio with Paintings That Sing (http://www.miccioart.com), Profile of Musician George Flash Espada, Celebrity Photography of Stephanie Parker, Review of Jeffrey Gurian and Tripp Whetsell's new book, Filthy, Funny and Totally Offensive; Mantra Madness; Steven Kaplan's coverage of several South Florida events; Babbie De Darian's Travel to the Canadian Rockies & Mount Rushmore; Jerome R. Richard's Miracle of Believing and Julie Flanders' Spiritual Poetry.
A photo collage and special coverage by the extravagant Lady Cognac Wellerlane (http://www.cognacscorner.tv/) expresses the creative, vibrant energy of the 10th Annual Timmy Awards. The star-studded event took place on April 26 at Arena, NYC and was hosted by Howard Thompson ("Help Me Howard") of CW11 and Randy Jones (new CD, "Ticket To The World") from the Village People.
The list of winner for the 10th Annual Timmy Awards include Cover Model: Silvi, Cover Photographer: Guy Powers, Designer: Hillary Flowers, Actor: Lana Antonova, Comedian: Karith Foster, Writers: John Ryder and Nick Mwaluko, Poet: Mano Dello, Singer: Grace Garland, Band: Shimmerplanet, Artist: Nicholas Bergery, Lifetime Achievement: Vinny Vella, Good Samaritan: Howard Thompson, Superstar: Randy Jones, Most Myriad & Masterful: Mike Evans and Most Valuable Supporter: Stephanie Parker.
The event was sponsored by Pit Bull Energy Drink, The Body Perfect, Moore Unique Skin Care, Me Too Shoes, Tan in the Shade, Virgin Mobile, Supreme Caterers and Diva Limousines.
Performances by Shimmerplanet, Leonora Volpe & the Metropolitan Repertory Ballet, Erin Jividen, Danny Nova, The Kin, and a fashion show by Gianni Lauren entertained the eager crowd.
The above is just a sample of the range of fresh, forward articles found in the Talent in Motion Magazine's 2007 Fall Issue.
Besides the events at TAJ and Blackstones, an event is also planned in the near future at Ferro's Restaurant, 145 East 50th St. (between 3rd x Lexington Ave.) next to the Kimberly Hotel. Do check the newsstands by the first week of October to purchase a copy. Also the full issue will be posted on linenas of October 15.
Credits for Cover Photo of Sylvia Tosun in Talent in Motion Fall 2007 Issue: Photographer - Barry Hollywood, Stylist - Carlos Davis, Make Up and Hair - Sylwia Rakowska and Rudy Azar (Ford) & Dress - Evolve Love.
Additional images of Sylvia Tosun and cast of characters in Talent in Motion are available upon request.
###