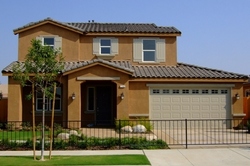 The auction presents an incredible deal for buyers and the recent Fed rate cut only sweetens it
Newport Beach, CA (PRWEB) October 2, 2007
Freedom Realty Exchange (FRE), an online real estate auction marketing company and a member of the LFC Group of Companies, has just announced the launch of their "Wine and Roses" online auction to sell fourteen single-family homes in Wasco, California. With the Federal Reserve recently slashing a key interest rate by half a point, from 5.25 percent to 4.75 percent, lenders have subsequently dropped their prime lending rate, making this online auction the perfect opportunity for buyers who have been contemplating purchasing a new home.
"The auction presents an incredible deal for buyers and the recent Fed rate cut only sweetens it," notes Bill Lange, President of the LFC Group of Companies. "This auction will give homebuyers a great opportunity to name their price because the seller must sell this inventory."
Poplar Pointe is a new family-oriented, planned community located in Wasco, California, just 26 miles from Bakersfield. Amenities in these roomy three and four bedroom homes include porcelain tile entry and kitchen flooring, Viatera® quartz countertops in kitchen and bathroom, stainless steel appliances, custom-stained hardwood cabinets, raised-panel doors, recessed lighting, hardwood floors, central air-conditioning, walk-in closets and energy-efficient dual glazed insulated windows. Three of the fourteen homes up for auction have minimum bids starting at $1 and are being sold as absolute, regardless of price, to the highest bidder.
Wasco, which prides itself as the Rose Capital of the Nation, is strategically located in California's central valley, just north of Bakersfield, between Interstate 5 and Highway 99. Not only is Wasco the 'gateway' to the central California coast, but a short drive can take you to the beach, the mountains and the major metropolitan areas of both Los Angeles and San Francisco. Surrounded by expansive fields and orchards, this growing community is well-known for its rich agricultural diversity and friendly, small-town feel. Nestled cozily among blooming almond and pistachio orchards and downy white cotton fields, Wasco is the provider of 55 percent of all roses grown in the United States.
With a sealed bid deadline of November 1, 2007, interested buyers are encouraged to review more information about the properties and register to participate in the online auction by visiting http://www.FRE.com/163R1.
Freedom Realty Exchange - part of the LFC Group of Companies For over 30 years, the LFC Group of Companies have served numerous Fortunate 500 companies, real estate developers, investors, financial institutions and government agencies by auction-marketing thousands of commercial, industrial, land and residential properties with an aggregate value well in excess of $5 billion.
###