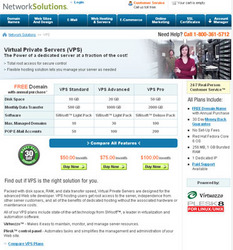 says Jeff Grosman, Senior Vice President of Product Marketing and Management for Network Solutions.
Herndon, VA (PRWEB) October 1, 2007
Small and medium sized businesses who need control over their Web hosting, who don't want to maintain their own servers and other equipment in-house, and who need to manage costs can now find a solution with Network Solutions® new Virtual Private Server Web Hosting (VPS). Network Solutions now offers affordable VPS packages loaded with industry leading software and backed by Network Solutions award-winning 24/7 Customer Support.
VPS is a form of hosting that partitions one physical server into multiple "virtual" servers. Each virtual server is fully isolated, can run its own operating system and can be independently rebooted. Unlike standard shared hosting, where hundreds of users share a server, VPS hosting provides advanced website developers the access, functionality, speed and security of a dedicated server without the expensive price tag or excessive responsibility.
"Network Solutions is pleased to announce that we are offering our advanced and tech-savvy users the option to use our new
VPS hosting packages," says Jeff Grosman, Senior Vice President of Product Marketing and Management for Network Solutions. "The new Network Solutions Virtual Private Server Web Hosting packages provide growing or cost-conscious customers a flexible and powerful solution that is affordable and yet still offers an outstanding value for their business. Customers can choose the level of service that best suits their business. The standard customer support that comes with all of our VPS packages includes assistance with server related issues, something most competitors do not offer."
VPS hosting is for customers that require total control over their hosting solution, including root access and reboot capabilities. The solution is also ideal for customers who need to maintain separate operating systems and run and manage multiple websites that are independent from one another.
Network Solutions provides 24/7 Real Person Customer Support™ for its VPS customers. For more information on Network Solutions VPS hosting solutions, visit NetworkSolutions.com.
About Network Solutions:
A longtime provider of website hosting solutions, Network Solutions is dedicated to giving its customers the tools to establish and maintain an online presence. Through comprehensive product offerings such as domain registration, hosting, website design, e-commerce, online marketing and more, Network Solutions remains at the forefront of today's web services industry. For more information about the company, visit NetworkSolutions.com.
###