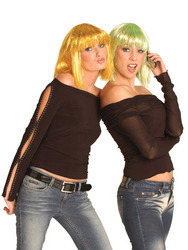 Today's hair extensions are trouble-free and really fun to wear for Halloween or for a night out with friends
West Bridgewater, MA (PRWEB) October 2, 2007
Playing dress-up to look like a favorite super hero or super star shouldn't be reserved only for Halloween. Online retailer WigShop.com announced today that it is launching a new hair and wig gallery that allows girls to look like their favorite rock star, movie star or pharaoh this Halloween or even year round.
The new Teen Rock Star department provides cool solutions to get the hottest rock star hair styles with wigs and hair pieces to easily and afford-ably look like fun characters such as the Disney Channel's Hannah Montana, the popular Cheetah Girls or pop star Brandy. Even products to turn girls into the elegant Cleopatra are available. To get the trendy tresses, teenagers only need to log onto http://www.WigShop.com and click into the Style Guide section for a selection of rock star or punk hair styles.
WigShop.com customers can find human hair and synthetic wigs, hair extensions and hair clip-ins to effortlessly produce their own rock star look at home. A Hannah Montana-style look is simple to create by adding in the fun Bubble Gum or Red Hots Easilites Human Hair Extensions into existing hair. Or combine the clip-in highlights with Hothair clip-in hair pieces Glam or Toyah to transform into a Hannah-look-a-like. Teens can emulate any of the singing group sensation Disney Channel's Cheetah Girls with the Diva Headband, the Dutchess or Glitz hair pieces from Especially Yours. Plus pop and television star Brandy has just launched new hair weaves and hair extension products at WigShop.com that are made from Pro-10 Natural Protein.
"Today's hair extensions are trouble-free and really fun to wear for Halloween or for a night out with friends," said S J Moore from WigShop.com. "Extensions can be clipped into place with a few simple steps and can add natural body or length to hair or can change a look completely."
WigShop.com also offers new products for Halloween costumes, including wigs by Jon Renau that will transform girls into Cleopatra, a China doll, or a punk rock star. Halloween costume wigs are affordable with prices ranging from $34 to $40, plus shipping.
WigShop.com is the premier online store for trendy, fashionable wigs, hair extensions, and hair related products and offers a unique style guide to help customers choose the best wig and color options. Launched in 2005 WigShop.com features products from top designers, stylists and celebrities including Easihair, Naomi Sims, Star Jones, Paula Young, Beverly Johnson, Brandy, and many more. Orders can be placed online at http://www.WigShop.com or by calling 1-800-689-2587.
###