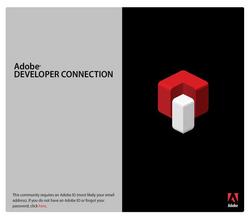 introNetworks has made a successful migration of their platform over to Adobe Flash® using Adobe Flex, and we are thrilled to be the first site to take advantage of it
Chicago, IL (PRWEB) October 1, 2007
introNetworks, a technology company that creates online communities for professionals, announced it has been selected by Adobe as the platform for the new Adobe Developer Connection (ADC) introNetwork announced today at the Adobe MAX 2007 conference.
"In this version of the introNetwork platform we have completely embraced Adobe® Flex™ technology and are proud that Adobe has chosen to provide our social networking solution to their developers. This will become the basis for a rich online community that will give great insight to Adobe and provide tremendous communication value to the thousands of Adobe developers around the world," said Kymberlee Weil, President and co-founder of introNetworks. "We'll continue to expand our platform using Adobe technologies and look forward to further increasing the value of our intellectual property portfolio."
"introNetworks has made a successful migration of their platform over to Adobe Flash® using Adobe Flex, and we are thrilled to be the first site to take advantage of it," said Steve Rotter, director of product marketing, Platform Business Unit for Adobe. "The ADC introNetwork online community will enable ADC community members to seek out others with similar backgrounds, talents, and interests, for collaboration and career growth."
About the introNetworks Technology Platform:
The introNetworks technology platform is a proprietary rich Internet application (RIA) built with Adobe Flex technology that serves to match people with shared values and people to rich content, such as conference sessions, articles, exhibitors, brands, products and services. The platform's proprietary interface is highly interactive and delivers a rich visualization of the community from the perspective of the individual user. Each step in the process is intuitive and easily understood by non-technical users.
Highlights of the platform include:

The industry's first graphically focused social networking platform that shows best matches in a bull's eye format.
Interactive matching of people to others based on values, interests, and community-specific user selected criteria.
Member-to-member messaging and collaboration within a closed, secure environment
Set up of robust profiles that provide key metrics for in-context matching data, generating results of much greater relevance in two clicks.
Community services including introMail, Calendars, and Forums.
Rich Business Intelligence and Reporting tools to analyze the online Community in minute detail, identifying shared values, emerging trends and opportunities to improve the member experience.
Actionable data empowering the Community with the ability to address member requirements as quickly as they are defined.
About introNetworks:
The company was founded four years ago by Mark Sylvester, CEO, who as co-founder of Wavefront Technologies is an expert in visualization software and Kymberlee Weil, President, who is a noted technology author and internationally recognized as an expert on Adobe's Flash technology.
introNetworks, which first demonstrated its technology for this community during the MAX 2003 Conference, has already deployed over 200 networks across a growing customer base that includes such high profile companies as Starcom MediaVest, HP, Autodesk, Business Objects, United Way, Dow Jones, CMP Media, Ziff Davis, and Intel. These companies have successfully implemented the introNetworks software platform to help their members and employees better connect, communicate and collaborate with their customers and each other.
The company is headquartered in Santa Barbara, California. For more information, please visit the introNetworks website at http://www.intronetworks.com or call (805) 576-1420.
Contact:
Mark Sylvester
805 576 1421
###