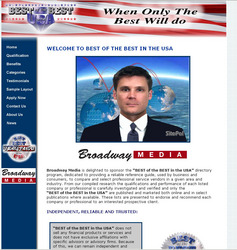 Because many qualified prospects have a difficult time in locating reliable and successful service providers, our new free service appeals greatly to successful businesses
Boca Raton, FL (PRWEB) October 1, 2007
In today's world of constant media frenzy, it's often difficult to separate credibility from clutter. To remedy the problem, Broadway Media has launched BESToftheBESTintheUSA.com, a new national business directory that spotlights top vendors in various industries and is available to the public on the World Wide Web.
The Broadway Media team assembles the list after conducting extensive, in-depth analysis of applicants in their respective industries. The investigation is widely based on company information, business research, news research, company market data, and consumer product reviews to determine which businesses exceed the specified criteria. Selected professionals such as the top life insurance companies or most experienced real estate brokers are listed on industry-specific pages that are promoted through Google, Yahoo, MSN and other big name search engines. As a result, the listings reach an abundance of upscale clientele and interested prospects.
Lists are available in a number of industries from top life insurance companies to web design firms and are limited to no more than 12 companies per page. Pages provide exclusivity by geographic location or unique company offering and provide a detailed outline of the criteria that companies exceeded.
For service providers that qualify, benefits include free cross-linked, online visual exposure to attract new clients and further company Internet marketing research. Topping the list also helps business both large and small create competitive differentiation, stimulate additional referrals, enhance their market position and maximize client retention.
"Because many qualified prospects have a difficult time in locating reliable and successful service providers, our new free service appeals greatly to successful businesses," says Mitchell J. Schultz, CEO of Broadway Media. "This service will save time and expense for both the service professionals and their prospective clients."
Broadway Media has plans to further enhance the BESToftheBESTintheUSA.com by supplying updated company information, business research and informative articles. Topics such as how to find a reliable service provider and how to develop a mutually beneficial working relationship with service providers will enable consumers to make better decisions about the businesses they engage.
To qualify for the Best of the Best in the USA online listing service, applicants must possess a clean record of service, years of experience and minimum business assets among other factors. To learn more about the qualification process or to submit an application, visit BESToftheBESTintheUSA.com.
About Broadway Media:
A 10 year old research and promotion firm, Broadway Media has established itself as a major reseller of in-flight magazine space and promoter of Broadway shows from the latter 1990s. Today, its primary focus is to provide cost effective media to desirable affluent consumers by placing highly visible pages in multiple publications and sharing an attractive cost with its participants. For more information about Broadway Media, visit BroadwayMedia.com.
###