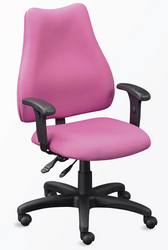 Every one of us has been touched by this disease. NBF is proud to be making a difference by helping to increase awareness and raise funds to find a cure
Milwaukee, WI (PRWEB) October 1, 2007
National Business Furniture (NBF) is thinking pink this fall in an effort to increase awareness and find a cure for breast cancer.
NBF, along with sister companies OfficeFurniture.com and OfficeChairs.com, has partnered with manufacturer Ergocraft Seating to design a pink ergonomic office chair which is now featured on the front cover of NBF's latest office furniture catalog and the homepage of its website, NBF.com. The NBF companies and Ergocraft will donate to Susan G. Komen for the Cure 15% of all sales of the pink chair sold now through December 31st, 2007.
Breast cancer is the most frequently diagnosed cancer among women and nearly 200,000 people will be diagnosed with breast cancer in the United States in 2007. "Every one of us has been touched by this disease. NBF is proud to be making a difference by helping to increase awareness and raise funds to find a cure," stated Kent Anderson, President of National Business Furniture.
Susan G. Komen for the Cure's promise is to save lives and end breast cancer forever by empowering people, ensuring quality care for all, and energizing science to find the cures. For more information, please contact Susan G. Komen for the Cure at 5005 LBJ Freeway, Suite 250, Dallas, Texas 75244, or visit http://www.komen.org.
About National Business Furniture
National Business Furniture was founded in 1975 as an office furniture catalog for corporate offices and government agencies. Since then, NBF has expanded into the school, church and home office markets through three catalog brands, five websites and an experienced sales team.
In January 2006, NBF was acquired by K + K America, LLC, the leading group of business-to-business mail order companies for business equipment solutions in North America.
For more information or for a free catalog, go to NBF.com or visit any of the NBF family of brands for a complete selection of computer desks, executive office suites and traditional office furniture such as file cabinets, bookcases, reception furniture, and office tables. NBF.com, OfficeFurniture.com, OfficeChairs.com, AlfaxFurniture.com, DallasMidwest.com.
Media Contact: Cindy Blue, 414-276-8511
###