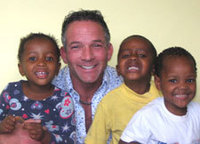 Unless troops come forward, they can't receive treatment. They just go home to die because they don't want to be shunned by their community
Irvine, CA (PRWEB) October 1, 2007
Jonathan Craig, a California man living with HIV for 25 years without major complications, will be traveling to the Kingdom of Swaziland, Africa on October 13 to address its people as their HIV and/or AIDS infection rate soars to near 45 percent.
Jonathan will be offering a national address at the National Stadium at Lobamba, working with the Swazi government to help design their HIV/AIDS hospital, visiting with more than 6,000 army men and women and their families in rural areas, and educating police and fire departments in his fourth visit to the kingdom.
"My main goals are to offer hope to the people of Swaziland and educate them on the disease," says Jonathan. "The sad fact is 45 percent of the population are basically social outcasts because their families are misinformed. This is unacceptable! I want to show their kingdom and the world that with proper care and love HIV victims can live long and healthy lives."
Jonathan's three prior trips have seen him become the first non-Swazi man to speak in parliament, visit with the royal family and military, and tour orphanages filled with abandoned HIV and/or AIDS infected children. In November of 2006 Jonathan traveled with his sister Jennifer who stood by his side as he spoke to hundreds of military troops, the Swaziland Times and other various organizations to reveal the importance of familial support for HIV and/or AIDS survivors.
"I have been amazed at the reception I have received from the Swazi people and government," says Jonathan. "My sessions with the Royal Army have resulted in new programs."
One such program surrounds the importance of military personnel coming forward to reveal their HIV and/or AIDS status and educating their families on the disease. "Unless troops come forward, they can't receive treatment. They just go home to die because they don't want to be shunned by their community," says Jonathan.
Jonathan's story inspired a key military official to come forward and share that he too has been HIV positive for more than 15 years. Last November, the official and his supportive wife appealed to his troops to "come forward, so that we can save your lives." To wrap up his appeal, the official stood next to Jonathan and challenged his men: "Look! If Jonathan and I can make it, you can too!" This resulted in several troops reaching out for help.
About Jonathan Craig
Jonathan Craig is an entrepreneur who was infected with HIV at the age of 17 when he was attacked and raped. For years Jonathan hid his status in shame, but in the last decade has decided to share his story and courage in order to inspire and transform lives. He is available for speaking engagements following his trip to Africa. For more information on Jonathan and/or to schedule speaking engagements, please call 310-402-3012.
# # #