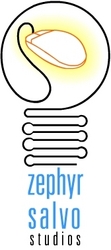 Clients have told me for years that they love that we are accessible after the fact. If they need a file we created, want to make changes, or just get our thoughts about how to create something new, they know they can get answers quickly and easily without a new invoice
Houston, TX (PRWEB) October 2, 2007
Zephyr Salvo, Houston's premiere multimedia design studio is celebrating its 14th year in business.
Specializing in creating custom marketing collateral and interactive presentations for one turnkey price, the secret to Zephyr Salvo according to John Phillippe, President and Founder, is customer service. "We will go to extreme lengths to make sure the customer not only has a good experience while their project is being designed and programmed, but also when they have additional questions or needs 6 months or a year after the project is complete," says Phillippe. It's a mantra that seems to work for the very creative and format versatile design team. The Zephyr Salvo pricing structure also seems to hit a chord with customers. "Throughout it all, no matter if we are producing a DVD, Print Collateral, a Website, or even a Mobile Application, clients like that we don't nickel or dime the project. Whatever the agreed upon budget, that's what we stick to," adds Phillippe.
Since 1994, Zephyr Salvo has produced projects all based on referrals. Phillippe admits "basing all of our revenue on referrals gives a good incentive to make every project more than what the client expected, in fact, that's what Zephyr Salvo means - Calm before the Storm, clients ask for one thing, but we deliver a lot more...." Deliver they do. With every project being done in-house by the Zephyr Salvo design and programming team, with unlimited changes, (until the work goes to press, or the website is uploaded), Zephyr Salvo routinely designs and programs 30 to 40 projects a month.
Zephyr Salvo started as a film and video company producing projects throughout the '90s for clients like the Discovery Channel, National Geographic, PBS, MTV, Paramount Studios, Warner Bros, and Sony Pictures. "In 1998 the internet was just getting interesting, when we were asked to do our first website it's like everything changed over night," says Phillippe. Since then Zephyr Salvo has designed and programmed thousands of custom websites for clients all over the world. "We never thought we would become a design firm, it's just what the market steered us into. I have really had to go to some lengths to keep our film and video talents into our portfolio mostly because the web hasn't been very video friendly due to bandwidth issues, but, thanks to sites like YouTube, that has all changed," he added.
Phillippe continues, "For most of 2007 we have been asked to do more video projects than ever, but instead of going to tape, the final result is ending up on a website, it's like we've come full circle."
Zephyr Salvo clients have been requesting so much website video that Phillippe built a HD Video Green Screen studio about 6 months ago. "It's really cool, we can shoot a client or an actor in our HD studio, run the signal into our programming department, design and sync animation next to the talent to give the illusion they are interacting with the graphics and upload it to their home page without it ever touching a piece of video tape," says Phillippe. "We have some clients that come in once a week just to change the video on their home page....with the infrastructure we have in place combined with our turnkey pricing it's easy on everyone." Zephyr Salvo also adds other features to projects that make working with the firm easy. Extra features like free hosting for websites, rolling print collateral and website design and programming into one turnkey price, and (most importantly) answering the phone to help a client with a question long after the project has ended.
"Clients have told me for years that they love that we are accessible after the fact. If they need a file we created, want to make changes, or just get our thoughts about how to create something new, they know they can get answers quickly and easily without a new invoice," says Phillippe.
What's next for the award winning firm? "For some time now we have been implementing Search Engine Optimization, (SEO), for the video we are creating. Video SEO (searchable online video), combined with the portfolio we have already built for producing video websites is going to make the next several years very interesting. Other than that, the work we are doing in the mobile world with custom presentations is also starting to take off, it's all really exciting. Houston is such a great city, the whole team feels really fortunate to have such amazing opportunities," says Phillippe.
The Houston Business Journal has listed Zephyr Salvo as one of Houston's top interactive design firms for the past three years. Zephyr Salvo was recently honored at the 2007 Greater Houston Builders Association PRISM Awards for developing two of the top three best websites for Residental Developers, as well as winning "The Website of the Year!"
Zephyr Salvo is located in the Galleria area of Houston. Their website is http://www.zsalvo.com .
###