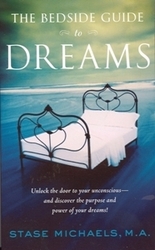 Problem solving is the default stance of the unconscious, a natural partner to the waking mind. The unconscious uses dreams as its main bridge to communicate insights.
New York, NY (PRWEB) October 3, 2007
R&D Divisions are in a constant race for the next breakthrough solution or idea. A new corporate seminar on How to Access the Unconscious for Breakthrough Insights promises to jump start researchers chasing cutting edge breakthroughs and patents, on demand. Mobilizing forty years experience and research with dreams and the unconscious, author and renowned expert Stase Michaels asserts it happens regularly and as easily achieved as learning to drive. Michaels backs the seminar with a money back guarantee and full confidentiality.
As stiff international competition fuels the need for R&D breakthroughs, corporations seek ways to maximize R&D dollars and slash development time. At the request of R&D professionals, Michaels schedules a four-day seminar at the corporation's selected location. Using personally developed techniques, she demonstrates how to present a problem to the unconscious to receive sought-after insights and solutions. Simultaneously, attendees learn easy techniques to understand dreams and the unconscious that can lead to increased breakthroughs and patent generation. Participants are not required to believe in the power of the unconscious or dreams; they simply try out what is presented. Michaels cites inventors, scientists and businessmen who made spontaneous advances using this approach and suggests it occurs regularly.
Seminar Benefits Multiple Industries
Michaels' seminar combines clear theory with hands-on practice. A passion for understanding how things work led Michaels to decipher the mechanics of the unconscious and its links to dreaming. Her experience as a former college professor enabled her to translate observations into concrete, easy to implement steps.
Seminar Converts the Unconscious into the Ultimate R&D Lab
Author of The Bedside Guide to Dreams (Ballantine, 3rd Ed. 2005) which enjoys a steady readership for over twelve years, Michaels states: "Problem solving is the default stance of the unconscious, a natural partner to the waking mind. The unconscious uses dreams as its main bridge to communicate insights." Michaels notes: "The unconscious can take highly specialized concepts already present in the mind and synthesize them into a new form. This clears the way for new ideas and patents that could otherwise take years and millions of dollars to create." Contrary to popular belief, she affirms that the mechanics of accessing the unconscious are now observable by the rare experts like herself whose background includes dream research, three degrees in psychology, college teaching, forty years experience, and two books, one in three editions.
Proven Track Record of the "Dreams-to-Patent" Insight Connection
Few know that Thomas Edison deliberately explored his unconscious. Edison regularly napped holding a brick, observing that as the brick fell, he awakened remembering a dream. His efforts led to 1,093 U.S. patents.
Elias Howe struggled with a sewing machine design whose needle pointed up, unable to hold cloth steady. Dream images such as a cannibal's spear with its head thrusting downward inspired him to place the needle face down, leading to a workable design. Howe's' patent remained the basic design for over 100 years.
Landmark Breakthrough in Science Created in Dream State
A young Einstein dreamed he was sledding down a steep mountainside, going faster and faster and approaching the speed of light which caused the stars in his dream to change their appearance. His autobiography records how contemplating the dream eventually led to his extraordinary scientific achievement, the principle of relativity.
Chicago Company Elated with Seminar Results
Company President Bob S. reviewed participants' assessments, commenting: "Attendees said the experience was very informative and enlightening. Many cited they learned much more than expected and took away concrete tools." Addressing their confidence to apply techniques, he stated: "Participants agreed that once they practice these simple steps, they will be able to do it."
Targeting content, he noted: "Outstanding material, focus and excellent work with individuals. Breaking down the process into tiny, simple parts, together with practice sessions, was very helpful. They thought the five steps of working with dreams were wonderful." His closing remarks cited: "The group was impressed by Michaels' knowledge and insight, and amazed at how she could cut right through to the meaning of a dream." He concluded: "An overall great job."
The Seminar that Guarantees Breakthroughs for R&D
Schedule a seminar and ensure that participants log their applications. Provide incentives for gaining insight using this method. If you are not receiving tangible breakthroughs within ninety days, you can obtain a full refund. All corporate interactions are strictly confidential.
About Stase Michaels:
Author, international TV/radio personality and dreams consultant, Michaels is listed with Honors in the Cambridge Who's Who, bringing three degrees in psychology plus forty years experience to her seminars.
Contact Stase Michaels directly:
Voice Mail: 757-233-9501
Phone: 757-373-0610
###