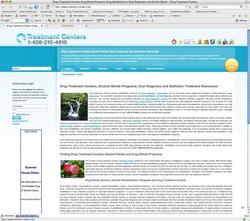 Santa Clara, CA (PRWEB) October 2, 2007
Treatment-centers.net drug treatment, alcohol rehab and dual diagnosis addiction recovery website is proud to announce the launch of the new Web 2.0 version of its public benefit directory of treatment centers.
Just months after the completion of its second year of helping thousands of addicts and alcoholics find treatment centers for recovery from drug addiction, alcoholism, dual diagnosis, and eating disorders, Treatment-Centers.net has completely redesigned its already successful website (currently garnering 50,000+ visitors/month).
Beyond the site's new look, new features include unique search functionality for addicts and alcoholics looking for drug rehab centers and alcohol rehabilitation programs, a MySpace - like recovery community for recovering addicts and alcoholics to connect with one another, and a completely redesigned drug addiction treatment centers directory. New directory functionality includes video and photo galleries of treatment centers, Google maps for driving directions to the centers (with live Satellite view), the ability for treatment centers to manage their own listings, and the ability for members of the recovery social-networking community to rate and write reviews of each addiction treatment center in the database. The project is unique in that it will be the first rated directory of rehabilitation organizations on the Internet, and the only directory of treatment centers in the world rated and reviewed by the addiction recovery community itself. Treatment-Centers.net has been a trusted public benefit addiction treatment resource and referral organization for over 2 years, helping thousands of drug addicts and alcoholics find addiction recovery information and drug rehabilitation resources.
The new treatment-centers.net has been designed to make every aspect of finding drug rehab, easier and more comprehensive than any other website in the addiction treatment field.
Treatment-centers.net has been redesigned to help the public as well as addiction treatment centers and practitioners. Addiction treatment organizations will have complete control over how their own listing will appear, and where it appears. With options for addiction treatment centers to upload a photo gallery of their rehab center and video of their programs and services for free with basic listings, the customization of each listing is easier and more comprehensive than ever before. The listings of alcohol and drug rehab programs will include information such as rehab facility description, rehabilitation methodology, treatment philosophy, methods of payment accepted, populations served, licensing information, and admissions policies. This information is completely customizable at any time by registered addiction treatment organizations. Treatment-centers.net also offers all drug treatment centers and addiction rehabilitation organizations the option to upgrade their entries at any time for a more visible location on the first page of the state directory via e-commerce. Along with options for first page placement in the treatment center directory, treatment-centers.net offers other advertising opportunities in a variety of locations throughout the website.
All registered users of treatment-centers.net have the ability to send and receive private messages and emails through the website which will allow drug rehab and dual diagnosis treatment organizations to receive emails and messages from persons looking to get more information about specific rehab programs, and respond personally to these inquiries. With the integration of our social-networking recovery community, Google Maps, photo galleries, video, and PDF brochures of all rehab programs, treatment centers, addiction recovery professionals, and rehabilitation centers, treatment-centers.net has become the most comprehensive addiction information repository and drug treatment resource site on the web, serving as a public benefit not only to those searching for addiction recovery resources, but also to all addiction treatment professionals offering help to drug addicts, alcoholics, sufferers of eating disorders and other addictions.
For all those seeking help, the redesigned treatment-centers.net has over 8,300 addiction treatment centers, eating disorder rehabilitation centers, dual diagnosis rehab centers, and alcoholism rehabilitation centers listed, all of which can be found through our advanced search functionality that allows drug rehab and addiction treatment center searches to be filtered by information like methods of payment accepted, populations served, rehab facility type, treatment philosophy, and modalities of treatment. Searches for addiction treatment can also be conducted simply by browsing through the alphabetical treatment center listings in a selected state or searching by the treatment center's name.
The new treatment-centers.net also includes a recovery forum containing discussions on addiction and recovery from drug addiction, sex addiction, gambling addiction, Internet addiction, gaming addiction, eating disorders, dual diagnosis treatment, and alcoholism. Registered users can also create their own forums on any subject they choose. Registered users of treatment-centers.net create their own profile and can upload pictures and share videos from favorite video sharing sites along with the private messaging and email features. The email and private messaging features on Treatment Centers allow all registered users to send a private message to any addiction treatment facility or professional to inquire privately about the rehab programs available and any other information not provided in the profile to receive a personal response. Registered users will also have the ability to rate and review various addiction treatment centers and their individual profiles, either from the information provided in a rehab listing or from personal experience at that particular rehabilitation center.
In addition to all of this, treatment centers still contains numerous pages of information and resources about drug treatment, alcoholism, addiction, eating disorders, and dual diagnosis that will help to facilitate the decision of which drug rehab, alcohol rehabilitation or dual diagnosis treatment center may be best for each individual. Treatment-centers.net also offers free drug addiction assessments and drug rehab placement services.
At treatment-centers.net, we are dedicated to providing comprehensive drug addiction treatment information and dual diagnosis recovery resources in a non-biased way. Unlike many substance abuse resource sites on the Internet, treatment-centers.net is a privately run public benefit organization with no affiliation to any specific addiction treatment center or service, drug rehab organization, or dual diagnosis rehabilitation program. We have always, and will continue to do our best to provide comprehensive, accurate information and referrals for all individuals and families in need. We look forward to hearing from members of the addiction treatment community as well as prospective members of our recovery community. For more information please contact us through the website or via email at info @ treatment-centers.net, or call us at 408-210-4910
We Thank You for Your Time and Support
Bernie Grohsman, Founder / Designer
Treatment-Centers.net
431 El Camino Real #1202
Santa Clara, CA 95050
408-210-4910
http://www.treatment-centers.net
###