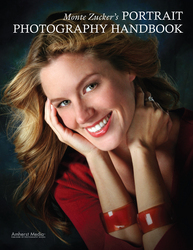 I don't photograph the world as it is. I photograph the world as I would like it to be.
Buffalo, NY (PRWEB) October 3, 2007
New Book by Photography Legend Monte Zucker Released by Amherst Media Now Available Monte Zucker was widely known as a master portrait photographer, but will perhaps be remembered even more fondly for his commitment to education. Over the course of his sixty-year career, Monte taught tens of thousands of young photographers--many of whom, now leaders in the field, credit Monte as the inspiration for their photographic style. Monte, a world-renowned photographer and lecturer was named Portrait Photographer of the Year by the United Nations in 2002. He was also a recipient of the Wedding and Portrait Photographers International Lifetime Achievement Award.
In this book, completed shortly before his death in 2007, Monte Zucker presents a comprehensive guide to the flawless lighting and elegant posing techniques that have made his images stand the test of time. Also covered are step-by-step techniques for determining how best to flatter each subject, tips for studio and location portraits, and creative ideas for enhancing your images. A testament to one of photography's legendary figures, this is a must-have book for all portrait photographers. Buy it here, http://www.amherstmedia.com/miva/merchant.mvc?Screen=PROD&Store_Code=AM&Product_Code=1846.
Amherst Media presents page after page of Monte's essential photographic lessons to enable photographers to achieve and exceed their financial and artistic goals. Providing instructions on how to conduct a well-crafted client consultation, readers will learn which angles of the face to photograph, how to pose the body, where to place the camera, and the proper positioning of lighting equipment in order to cultivate an emotional connection with clients to produce an ideal image. Chapters with expert advice on digital imaging cleanup and finishing techniques, clothing and makeup selection, and location and studio backdrop options to reinforce portrait concepts are also included.
Taken from the Monte Zucker website: Based on classical tradition, Monte's portraiture never strayed far from his original intent - to capture a moment in people's lives and memorialize it for posterity, In his own words, "I don't photograph the world as it is. I photograph the world as I would like it to be."
For further information or to receive a review copy, contact:
Kate Neaverth or Craig Alesse, Amherst Media®, 175 Rano Street, Suite 200, Buffalo, NY 14207
(800)622-3278
fax (800)622-3298
http://www.AmherstMedia.com
###