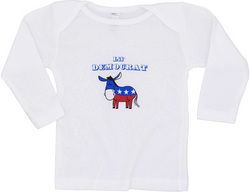 New York, NY (PRWEB) October 2, 2007
Uncommonly Cute maker of Baby Clothes, Toddler Clothes and onesies announced it's new line of Lil' Democrat and Lil' Republican Tees.
Allison Friedland, Spokesperson for Uncommonly Cute commented, "The Republican and Democrat tees and onesies are expected to be very popular with our politically-active moms. We have had many requests for these baby clothes and boutiques all over the country are currently placing orders to carry these items. Politically-active celebrities such as Jon Stewart and Elisabeth Hasselbeck have been gifted with the tees for their little ones and the tees have already been generating an enormous amount of celebrity buzz."
Each garment is made of 100% combed cotton. Sure to delight the babies' no-fuss, socially conscious moms, the clothes are all machine washable, safe, durable and made in sweatshop-free American studios.
Uncommonly Cute is a privately held, specialty on-line children's clothing boutique located in New York, NY. The company specializes in cool baby clothes and hip toddler tees for children newborn through size 6. The company sells its products world-wide through it's website and boutiques throughout the globe. Uncommonly Cute supports multiple charities including Room to Grow, R Baby Foundation and The Breast Cancer Research Foundation.
For information about Uncommonly Cute please visit the company's web site.
###