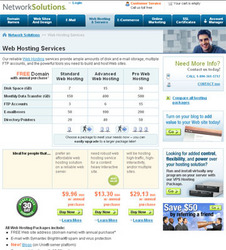 Herndon, VA (PRWEB) October 3, 2007
Network Solutions has proven their ability to meet and exceed customer expectations as a Web site hosting provider, which is why the company has been selected as FindMyHost's September 2007 Editors' Choice for Web Hosting. Determining factors contributing to Network Solutions receipt of this award include Customer Service, Value, Security and Data Recovery.
Jeff Grosman, SVP of Product Marketing and Management for Network Solutions says, "Network Solutions has been working very hard over the past few years to ensure that our Web hosting provides tremendous value to our customers, the web hosting offering is comprised of a great set of feature rich packages, a robust and stable infrastructure and award winning customer support - making it the best in the industry. We are very pleased to receive this award, indicating that the industry recognizes, and acknowledges, all of our hard work."
Network Solutions 24x7 telephone and email support was tested thoroughly by the review staff at FindMyHost, reporting that they received technical support in a timely fashion. FindMyHost recognized Network Solutions already affordable Web site hosting plans, citing that they are all-inclusive and contain everything an individual or small to medium-sized business would ever need. They gave special notice to the inclusion of a free domain name with all annual plans, saving customers the usual domain name purchase fee. FindMyHost also pointed out that Network Solutions is one of the only Web hosting companies to offer a 30-day money back guarantee and they were pleasantly surprised with the speed and ease of use of this program during their testing.
FindMyHost recognized Network Solutions Security and Data Recovery services including their Symantec Brightmail™ spam and virus protection with both Unix and Windows platforms. This platform has an established history of eradicating spam. They also noted Network Solutions Backup and Restore service, which allows customers who accidentally delete their information to restore the data from backup.
To read more about why Network Solutions was given this Web hosting award, you can read their FindMyHost report card. To learn more about Network Solutions and their Web site hosting services, please visit NetworkSolutions.com.
About Network Solutions
Network Solutions equips large and small businesses with the tools and support needed to begin making money selling online. The leading provider of Internet services for small and medium-sized businesses, they offer domain name registration, Web site hosting, Web design, E-commerce software and more. With 28 years of experience, Network Solutions has become a trusted name when it comes to easy-to-use and affordable Web-based products for businesses.
###