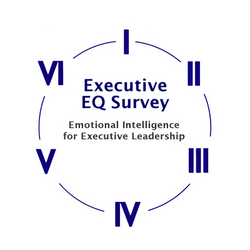 Old Saybrook, CT (PRWEB) October 2, 2007
Top leaders, to be effective, must be skilled at engaging employees in mental, emotional and even spiritual dimensions. Research clearly shows that the emotional intelligence of leaders greatly influences their effectiveness in the latter tasks.
In response, Clark Wilson Group now offers a validated 360 feedback survey called Executive EQ to help chief executive officers, presidents, vice presidents, and other c-level executives understand perceptions of their emotional intelligence. It integrates qualities such as self-awareness, self-regulation, and self-confidence, while at the same time meeting Clark Wilson Group's rigorous research standards. The report provides leadership competency scores on 19 competencies: leadership vision, risk taking/innovation, engagement, business & financial acumen, industry & market insight, organizational savvy, judgment, customer focus, speed & decisiveness, talent & team development, perseverance, awareness of others, self-awareness, delivering world class results, push/pressure, self-management, sharing credit, trust earned, effectiveness / outcomes.
Executive EQ differs from other EQ surveys in that a development plan is inherent in the report. It prioritizes the competencies that executive leaders need to achieve higher levels of emotional intelligence and effectiveness. All surveys in the series are based on Clark Wilson's Task Cycle® learning model. They measure observable behaviors that can be changed through training and development.
Clark Wilson Group was established in 1973 to provide the first 360-feedback for management training purposes. All Wilson surveys are enriched by an ongoing research program that begin in 1970. The surveys are reliable and valid, and norms are regularly updated. Performance Programs, Inc. is an authorized distributor and training provider for the Clark Wilson Group surveys.
Call 1-800-565-4223, or visit the following links to obtain fact sheets and sample reports for Executive EQ or any of the Clark Wilson Group Task Cycle surveys.
Media Contact:
Kathy Connolly
1-800-565-4223
Web site: http://www.performanceprograms.com
blog: http://surveyfeedback.blogspot.com
This press release was distributed through eMediawire by Human Resources Marketer (HR Marketer: http://www.HRmarketer.com) on behalf of the company listed above.
###