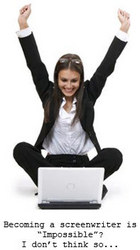 London, UK (PRWEB) October 2, 2007
Fresh from writing two episodes of the Doctor Who spin-off show The Sarah Jane Adventures, Philip Gladwin announced he is offering free membership of a one-on-one email Mentor program for the first fifty people to buy his Screenwriting Goldmine package.
This multi book and CD course contains a powerful step by step method detailing how to write a screenplay. It takes screenwriters all the way from generating the initial concepts through to the end of their first draft, and is priced at $97. It can be found at http://www.screenwritinggoldmine.com
In the last year Philip has written a double feature length murder mystery for Lynda La Plante and her Trial & Retribution series, a set of five plays for BBC radio, and two episodes of Doctor Who showrunner Russell T Davies' brand new Sarah Jane Adventures.
Philip says "The take up of the first version of Screenwriting Goldmine was rapid and the response simply amazing. The new package contains even more insider information on how to write a screenplay. At each stage readers are given the most powerful writing techniques I know. They inevitably start writing in a way that will get them real results. It's incredibly rewarding to see, and the attention I can offer through the email Mentor program means questions get answered on an individual basis."
Philip has been a screenwriter and script editor for both the BBC and ITV since 1995. He was a staff writer for The Bill for two years, and other writing credits include Holby, Grange Hill, and the BBC's drama/doc strand What If...?. His script editing credits include work on Doctor Who director Joe Ahearne's movie Trance. He has also been nominated twice for the Dennis Potter Award by top indie television production company World Productions. This Mentor program is a rare opportunity for an unrepresented screenwriter to get an inside chennel to this level of skilled editorial support.
About Screenwriting Goldmine:
Screenwriting Goldmine was set up in January 2007 to create a go-to internet location for quality screenwriting advice and discussion. The Screenwriting Goldmine How To Write Screenplays textbook was launched in June, and an enhanced package is to be launched 4th October 2007.
###