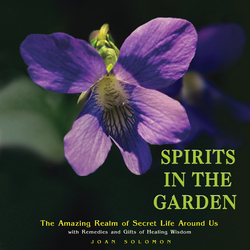 Spirits in the Garden: The Amazing Realm of Secret Life Around Us
MINNEAPOLIS, MN (PRWEB) October 2, 2007
Gardeners, nature lovers, and health and wellness devotees will delight in the uncommon images revealed in artist Joan Solomon's unique book of nature photography, "Spirits in the Garden: The Amazing Realm of Secret Life Around Us." The artist edition of "Spirits in the Garden" will be offered at a holiday gift-giving price of $48.75 and is available for purchase online at http://www.spiritsinthegarden.com and in select gift stores. The 144-page, 11" x 11" hardbound volume contains un-retouched full-color photographs of the subtle, yet obviously present "spirits" that populate gardens and forests. And while the photographs speak volumes by themselves, the text describes the natural healing remedies, wisdom and nutrition that these plants provide.
Five years after photographing flowers, plants and trees throughout the United States with high intensity macro lenses, Solomon's book was published. The photographer's images reveal the unmistakable presence of life-like countenances imbedded in the plants. At once amazing and magical, the spirit-images are a profound reminder of the healing life that exists in nature.
"Gnomes, elves, sprites, fairies---they've been known by many names---have been present in folklore for centuries," said Solomon. "But the way in which they reveal themselves in these photographs is a wake-up call to become aware and sensitive to what nature provides," the Minnesota and California-based artist continued. Readers agree, summed up in this comment Solomon received: "'Spirits in the Garden' is absolutely awe-inspiring. When I show it to people, it takes their breath away..... After seeing the photographs in the book, you will never look at a flower or spend time in nature in the same way again."
Interrupting a more traditional career path, Solomon has devoted herself to making art for the past 20 years, creating a body of work that includes photographs, paintings, drawings, sculptures and other mixed media creations. Almost immediately, she learned that her meditative work about the natural world had a profound effect on people, attracting corporate and private collectors all over the world, in addition to New York gallery representation.
To purchase "Spirits in the Garden: The Amazing Realm of Secret Life Around Us," call 1-888-310-0064 or visit us online, and to learn more about Joan Solomon's artistry, visit http://www.joansolomon.com.
# # #