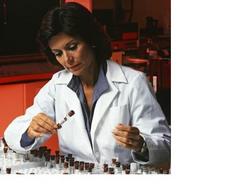 With this increased financial visibility, we will also be able to build a stronger case for support.
Charleston, SC (Vocus) October 2, 2007
Blackbaud, Inc. (NASDAQ: BLKB), announced today that the Los Angeles Biomedical Research Institute at Harbor-UCLA Medical Center (LA BioMed) and the Veterans Medical Research Foundation (VMRF) will use the company's financial management solution to streamline their complex operations. These are just two recent additions to a growing number of medical research organizations including the Minneapolis Medical Research Foundation, the MUSC Foundation for Research Development, and the Georgia State University Research Foundation that use Blackbaud solutions.
With a focus on biomedical research, training and service, LA BioMed is one of the largest independent nonprofit biomedical research enterprises in the country. With nearly 1000 research projects and clinical trials underway at any time and an annual budget of more than $75 million, the research institute needed a system with which its staff could efficiently track activities, but one that would also integrate with its existing systems to automate and streamline accounting and budget management processes.
"We chose to partner with Blackbaud not only for the company's experience in serving medical research organizations, but more importantly for its ability to improve our operations on all levels, enabling us to focus on our mission of improving the future of healthcare," said Frank Nguyen, LA BioMed's assistant controller. "With this increased financial visibility, we will also be able to build a stronger case for support."
LA BioMed selected The Financial Edge (combined with the Unitime timekeeping module) to generate new levels of reporting and financial/budget analysis, provide an automated payroll system, and enhance allocation of funding and tracking of financial and personnel resources. With 40 concurrent users, The Financial Edge will help staff reduce duplicated efforts and will allow for real time data entry and assessment.
"As the funding environment continually becomes more competitive, the demand for increased accountability rises as well," said Lou Attanasi, Blackbaud's senior vice president of products. "Adding to that the intricate nature of operations at medical research organizations, and you have a very complex accounting scenario from tracking time spent on projects to analyzing how grant funds were spent. By relying on a solution that was designed for nonprofits with specific tracking functionality and one that can integrate with existing systems, these organizations are proactively positioning themselves for growth."
The Veterans Medical Research Foundation will also use The Financial Edge to support its mission of promoting biomedical and health services research. VMRF is the nation's second largest of 85 active VA Foundations with an annual budget approaching $30 million and a staff of more than 200 employees.
VMRF currently works with about 110 principal investigators, assisting them with the administration of close to 200 active studies which seek to improve the lives of the nation's veterans as they deal with a wide range of physical and mental health issues. VMRF had outgrown its previous accounting software and needed to quickly implement an integrated financial solution for tracking projects (grants, contracts, and clinical trials).
"We needed a robust system that could empower our VA investigators with up to date information that is relevant to their specific research projects and grants," said Bob Millington, VMRF's
director of information technology. "After an exhaustive search, Blackbaud was the preferred provider to supply a robust seamless grant-to-project tracking, payroll and budgeting system. Our implementation timeline was very aggressive and I am pleased to say that Blackbaud continues to exceed our expectations on all angles."
About the Los Angeles Biomedical Research Institute
Founded more than 55 years ago, the Los Angeles Biomedical Research Institute conducts biomedical research, trains young scientists and provides community services, including nutritional assistance, childhood immunization, anti-violence programs and various disease education initiatives. For more information, visit http://www.labiomed.org.
About Veterans Medical Research Foundation
Veterans Medical Research Foundation is a private not-for-profit research corporation dedicated to supporting the research mission of the VA San Diego Healthcare System. VMRF was established as a 501(c)(3) corporation in the State of California in 1989. VMRF's purpose is to promote biomedical and health services research through comprehensive research resource management. For more information, visit http://www.vmrf.org.
About Blackbaud
Blackbaud is the leading global provider of software and services designed specifically for nonprofit organizations, enabling them to improve operational efficiency, build strong relationships, and raise more money to support their missions. Approximately 19,000 organizations — including the American Red Cross, Dartmouth College, the WGBH Educational Foundation, Episcopal High School, Lincoln Center, Cancer Research UK, Special Olympics, and Arthritis Foundation — use one or more of Blackbaud products and services for fundraising, constituent relationship management, financial management, direct marketing, school administration, ticketing, business intelligence, website management, prospect research, consulting, and analytics. Since 1981, Blackbaud's sole focus and expertise has been partnering with nonprofits and providing them the solutions they need to make a difference in their local communities and worldwide. Headquartered in the United States, Blackbaud also has operations in Canada, the United Kingdom, and Australia. For more information, visit http://www.blackbaud.com.
Media Contacts:
Melanie Milonas
Blackbaud, Inc.
melanie.milonas(at)blackbaud.com
843.216.6200 x3307
Laura Mecoy
LA BioMed
lmecoy(at)issuesmanagement.com
310.546.5860
Kerstin Lynam
Veterans Medical Research Foundation
858.552.8585 x7797
Source: Blackbaud
Forward-looking Statements
Except for historical information, all of the statements, expectations, and assumptions contained in this news release are forward-looking statements that involve a number of risks and uncertainties. Although Blackbaud attempts to be accurate in making these forward-looking statements, it is possible that future circumstances might differ from the assumptions on which such statements are based. In addition, other important factors that could cause results to differ materially include the following: management of integration of recently acquired companies and other risks associated with acquisitions; risk associated with successful implementation of multiple integrated software products; lengthy sales and implementation cycles, particularly in larger organizations; uncertainty regarding increased business and renewals from existing customers; continued success in sales growth; the ability to attract and retain key personnel; risks related to our dividend policy and share repurchase program, including potential limitations on our ability to grow and the possibility that we might discontinue payment of dividends; risks relating to restrictions imposed by the credit facility; risks associated with management of growth; technological changes that make our products and services less competitive; and the other risk factors set forth from time to time in the SEC filings for Blackbaud, copies of which are available free of charge at the SEC's websites at http://www.sec.gov or upon request from Blackbaud's investor relations department.
All Blackbaud product names appearing herein are trademarks or registered trademarks of Blackbaud, Inc.
###