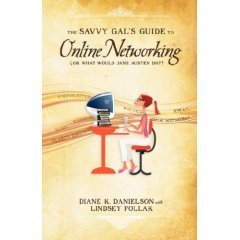 Women complain that they are too busy to network like the men, and there is data to support this
Cohasset, MA (PRWEB) October 3, 2007
It is a truth universally acknowledged that a woman in search of a fabulous career must be in want of networking opportunities ... or so Jane Austen might say if she were writing -- or more likely, blogging -- today. At least that's the belief of co-authors Diane K. Danielson and Lindsey Pollak, who put fingers to keyboard, in lieu of pen to paper, and tapped out The Savvy Gal's Guide to Online Networking (or What Would Jane Austen Do?). What better way is there for today's busy women to network and achieve their goals than jumping online?
Businesswomen reluctant to use Web 2.0 technology to network or market their businesses
Diane K. Danielson is the CEO and founder of the Downtown Women's Club an online and in-person professional network that will be distributing the book to all new members. She first noticed the need for an online networking guide specifically geared towards women in 2006. "Women complain that they are too busy to network like the men, and there is data to support this," says Danielson referring to recent studies on "The Happiness Gap" between the genders due to increased work hours and women carrying a greater burden of household chores. "However, right at our fingertips, available 24/7, is an unlimited number of cost and time-efficient opportunities to network."
She, herself, has created a variety of virtual opportunities at the Downtown Women's Club website including their searchable online member directory, DWC Faces; blogs; blogrolls; discounts & freebies exchanges; and groups on social networks like LinkedIn.com and Gather.com. Yet, she still sees a reluctance to participate by many businesswomen due to unfamiliarity with the technology.
Danielson was also troubled by the number of women she met who were launching businesses with nothing more than a website as their online marketing plan. "Technology is an equalizer that can help a small business appear larger, market to a wider audience, run more efficiently, and operate with less staff. It's an opportunity I would hate to see women miss out on," advocates Danielson.
Networking survey revealed lack of interest in having an online presence in 2006
In April 2006, Danielson surveyed 1,000 businesswomen of all ages in the Downtown Women's Club Online Networking Survey - High Tech or Not High Tech, That is our Question, and found that less than 25% of women read blogs or message boards, and less than 5% either had a blog or participated in a blog for business. While the numbers may have increased somewhat since then, it appears to Danielson that businesswomen have ceded the blogosphere to the men. "We're sitting back while our male peers take control of the virtual world. This is a real shame, because blogging is not a medium that has a long history of male domination," says Danielson. "Blogging and other Web 2.0 technologies are still new, and I hope women will start using them to promote themselves, their businesses, and perhaps more importantly, their opinions."
In that same survey, Danielson found that one-third of the women admitted that they had never searched for themselves online, or if they had, they didn't find anything. In a world where recruiters and the media use the web as a resource, once again, Danielson and co-author Lindsey Pollak see this as a missed career opportunity. Says Pollak, "I've seen how proper email etiquette, having an online presence, and blogging both on my own and with others has improved my business. I wanted to help other women do the same."
The Savvy Gal's Guide to Online Networking aims to make women comfortable in the virtual world
The Savvy Gal's Guide to Online Networking (or What Would Jane Austen Do?) is a "how to" manual jam-packed with tips and tactics - but written in a fun, friendly and familiar format. That's where Jane Austen comes in. Throughout the book, the reader can follow the antics of Wendy, a Jane Austen-like character, whose blog excerpts appear in each chapter. Why Jane? Both Danielson and Pollak agree that "Good manners is at the root of good networking. No matter what the medium."
Some of the online networking tips that run throughout the book include:
Savvy Tip #5: Do the one-minute search test before you hit the send button. If you're approaching a new contact via email, take one minute to search his or her name on the web. If there's a wealth of information out there, and it's easily discoverable within 60 seconds, then it's likely that person will assume you have, at a minimum, that base knowledge before you make contact.
Savvy Tip #8: Don't be a networking bully. We know that your product, service, or dynamic personality would brighten other people's day, and if they can't figure out how, then you would love to explain it to them. However, you can't assume that at the particular moment you sent your email, the other person really wants his or her day brightened by you. This is where networking differs from sales. Your earnest persistence may come off as bullying if you don't leave some "wiggle room" for your contact to politely decline your request to connect.
Savvy Tip #15: Avoid online identity theft. We're not talking about the online theft of your bank account, but someone innocently co-opting your online image. It happens, especially if you have a somewhat common name. The best way to stand out from the crowd is to populate the web with content by, or about, you. You also might consider using a nickname professionally or your middle initial. Both will help distinguish you from any online "twins."
The Savvy Gal's Guide to Online Networking (or What Would Jane Austen Do?) is 140 pages, and is available at Amazon and BarnesandNoble.com, as well as through the Downtown Women's Club, where new members who join for $49.99/year will receive a complimentary copy in their welcome goodybag. For more information about the book, and the continuing saga of its main character, Wendy, visit http://www.SavvyGalBlog.com.
About the Downtown Women's Club:
Founded as a networking organization in Boston by a group of energetic and enthusiastic professionals in 1998, the Downtown Women's Club (DWC) has evolved into an in-person community with 15 chapters and online network designed for smart and sophisticated businesswomen on the go. Our mission is: to empower women through access to information and opportunities for collaboration both online and in person. With our expanding club system and virtual services, no matter where you work, live, or play, you can join the DWC and interact with 10,000 dynamic corporate executives and entrepreneurs from a variety of industries.
About Diane K. Danielson:
Diane K. Danielson is the CEO of DowntownWomensClub.com a career website and social network for businesswomen and the co-author of Table Talk: The Savvy Girl's Alternative to Networking (2003), She blogs for http://www.womensDISH.com, the Boston Globe, and reviews books for Entrepreneur magazine.
About Lindsey Pollak:
Lindsey Pollak is the author of Getting from College to Career: 90 Thinkgs to Do Before You Join the Real World (2007) and has written for such publications as Marie Claire magazine, PINK magazine, and New York Metro newspaper.
###