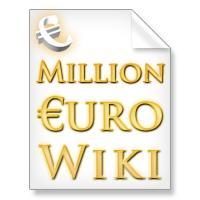 All that's left of the MDHP today is a mass of pixels collecting virtual dust. None of the successive MDHP clones have been able to replicate the success of the original - until now
Amsterdam, The Netherlands (PRWEB) October 3, 2007
Like the incredibly popular Wikipedia, the Million Euro Wiki is pro-actively marketed and promoted by its users, because each of them has invested a one-time fee of 75 euros ($100) to own a page.
Users of the Million Euro Wiki choose their own word or phrase as their page's title, and once they have paid the fee, that page is theirs - for life. "Nobody else can edit the page except the owner".
A page on the Million Euro Wiki can be edited just as a user would edit a page in Wikipedia, but the difference with the Million Euro Wiki is that a person's page can be used to promote a website, a blog, an affiliate product or a service.
Users work to drive traffic to their own pages through individual marketing campaigns, while a large portion of the money collected in sign-up fees is used to market the Million Euro Wiki, further driving traffic to the wiki's pages.
The SEO value of the wiki increases exponentially as more users join the community. Every time a new page is indexed by Google, the Million Euro Wiki gains in online authority.
The smart marketers are those getting in early - right now - and buying up popular words and phrases, such as "Business", "Money" and "Affiliates". Users are then able to monetize their pages by selling services or promoting advertising campaigns.
There have been a number of "million dollar" ideas on the Internet in the past two years. The first was the Million Dollar Homepage (MDHP) in 2005. The MDHP (milliondollarhomepage.com) offered Internet users the chance to own pixels on a static homepage, all sold for $1 each with one million pixels up for grabs.
"All that's left of the MDHP today is a mass of pixels collecting virtual dust. None of the successive MDHP clones have been able to replicate the success of the original - until now".
With the interest in the Web 2.0 buzz, Internet users are demanding more - they want to be involved; they want to interact. Online marketing is increasingly focused on communities.
While social bookmarking sites like Digg and Reddit are soaring in popularity, the Internet's leading entrepreneurs are pouncing on the opportunity to generate both online traffic and income with the Million Euro Wiki.
If that isn't enough to whet your appetite, for every 25 pages sold on the Million Euro Wiki, one user wins a 16GB iPod Touch in association with John Cow dot Com, who are also offering a 10% discount when the coupon "JohnCow" is used.
For more information visit Million Euro Wiki FAQ.
###