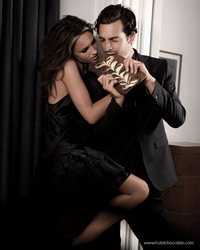 Chocolate can be a source of deep pleasure and provide a comforting boost similar to the feeling of falling in love
(PRWEB) October 4, 2007
This fall, Hotel Chocolat, the innovative European chocolatier and cocoa-grower, invites American chocolate-lovers to put up the "Do Not Disturb" sign and embark on a multi-sensory journey into chocolate bliss. Beginning in September 2007, Hotel Chocolat will offer a range of gourmet chocolates online at hotelchocolat.com for delivery in the United States. Hotel Chocolat draws on premium ingredients and a passionate commitment to the chocolate-making process to explore the enduring love affair that has been taking place between human beings and cocoa beans for 3,500 years.
"Chocolate can be a source of deep pleasure and provide a comforting boost similar to the feeling of falling in love," said Angus Thirlwell, co-founder of Hotel Chocolat. "Hotel Chocolat has the unique ability to benefit from both the skill of European chocolatiers and the knowledge of cocoa-growers to create pure chocolate that delights all of the senses and may even inspire a few love affairs -- with chocolate, of course."
Hotel Chocolat's tastemakers are not afraid to take risks, and this sense of adventure is evident in their products, none more so than the company's signature chocolate slabs. The iconic shape was born when Thirlwell, the company's co-founder and creative force, recognized the beauty in the natural form pure chocolate takes when it is poured onto a chocolatier's marble table and allowed to set. The thick, premium chocolate slabs are available in a variety of flavors and sizes, with specialty box sets, such as the "Peepster," containing an intriguing range of samples "peeping" out of their stylish black case.
"Growing cocoa at our estate in St. Lucia enables us to create rare, high-end chocolate that provides a variety of unique taste sensations," said Thirlwell. "Hotel Chocolat's gourmet chocolates provides a multi-sensual journey for aficionados and casual chocolate admirers alike, to help each one discover which flavors personally invigorate him or her -- an experience we refer to as 'reaching the chocolate bliss point.'"
Hotel Chocolat embraces a "No Nasties" policy, refusing to tolerate any 'nasties' like hydrogenated vegetable fat, artificial colorings and artificial fruit or alcohol flavorings. The company is also committed to using "Less Sugar More Cocoa" wherever and whenever possible, and each of the chocolatier's special dark and milk chocolate Purist bars contains high cocoa content. The selection of Purist chocolates -- which includes bars that are 100% cocoa -- is perfect for tasters who want to reach "the chocolate bliss point," without the sugar-induced guilt.
The historic cocoa-growing plantation in St. Lucia plays an integral part in the exceptional sensory journey offered by Hotel Chocolat's pure chocolate and, for the first time ever, the chocolatier is giving bliss-seekers the chance to see first-hand the transformation from bean to bar while enjoying a luxury vacation in a tropical paradise. Visitors to hotelchocolat.com can enter to win an all-expenses-paid trip to the island plantation to experience the inspiration behind their favorite sweets.
Other Hotel Chocolat products available in the United States will include specialty gift selections, hot chocolate mixes and cooking chocolates. For a complete listing and descriptions of products, please visit hotelchocolat.com, which will be live from the end of September.
About Hotel Chocolat:
Hotel Chocolat began 14 years ago in the UK, when co-founders Angus Thirlwell and Peter Harris embarked on a journey to reset the stakes of the chocolate market in terms of quality, variety and inspiration. A mail-order catalog preceded their award-winning Web site and retail stores across the UK. The unbeatable combination of authentic premium ingredients with imagination and flair has translated into success in the UK and beyond.
Hotel Chocolat's chocolate expertise extends all the way from bean to bar with its own cocoa plantation, the Rabot Estate, in St. Lucia. The company has restored the plantation to its full former 'working glory.' Their engaged ethics ethos is further underscored in their work in Ghana's cocoa plantations.
The company's brand name implies a chocolate sanctuary, a 'sense of place' where luxury is implicit, but there remains an element of mystery and intrigue. Hotel Chocolat is now bringing its luxury chocolate to the United States via hotelchocolat.com, encouraging Americans to find their own chocolate bliss point.
###