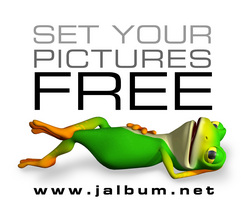 This is a big step for JAlbum, enabling anyone to publish web albums. I believe people who care about the appearance of their photo albums will find JAlbum a great fit for their needs
(PRWEB) October 4, 2007
Three million photo sharing enthusiasts use JAlbum to publish web photo albums. These users have had to find their own hosting solution for their albums, which has limited the JAlbum user base towards the more tech-experienced. With the new hosting alternative, JAlbum is opening up for a much broader market, simplifying the process of publishing photo albums to a few easy clicks. The free account holds 30 MB and fit about 200 pictures to start out with. Users will also be able to upgrade their account for more storage.
A lot more expression:
Most photo sharing sites have only one album look. With JAlbum, you set the look and feel of the album to fit your photos and the rest of your web site. Everything is customizable; you can resize thumbnails, write descriptions to every picture the way you want, choose color themes, add music and more.
"This is a big step for JAlbum, enabling anyone to publish web albums. I believe people who care about the appearance of their photo albums will find JAlbum a great fit for their needs," says founder David Ekholm.
Stockholm based JAlbum AB was founded in the fall of 2006. The first version of JAlbum was released as a hobby project by founder David Ekholm in 2002. The JAlbum software is started every 5 seconds somewhere around the world and has been granted numerous awards from respectable companies like Softpedia, About.com, Download.com and Tucows.
David Ekholm is available for interviews regarding the latest development in photo sharing on the Internet. You may reach David at:
Mobile: +46 70 486 77 38
Skype: davidekholm
For high-resolution pictures, please visit: http://www.jalbum.net/press. Additional information and inquiries, please contact:
Carl Mårtensson
Mobile: +46 735 24 45 80
Skype: carl.martensson
###