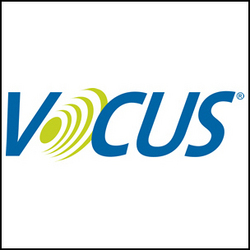 Vocus is proud to be named to Deloitte's Fast 50 for the eleventh consecutive year
Lanham, MD (Vocus) October 3, 2007
Vocus, Inc., (NASDAQ: VOCS) a leading provider of on-demand software for public relations management, today announced that it has been named one of Maryland's 50 fastest growing technology companies on Deloitte's prestigious Technology Fast 50 Program for Maryland. The Technology Fast 50 is a ranking by Deloitte & Touche USA LLP, one of the nation's leading professional services organizations, of the 50 fastest growing technology, media, telecommunications, and life sciences companies in Maryland based on the percentage of revenue growth from 2002-2006.
"Vocus is proud to be named to Deloitte's Fast 50 for the eleventh consecutive year," said Rick Rudman, chief executive officer at Vocus, Inc. "The company's consistent growth over the years is a testament to the talent of our employees, our SaaS business model and our commitment to ongoing innovation."
"To rank on Deloitte's Technology Fast 50, companies must have phenomenal revenue growth over five years," said Gary Tabach, Managing Partner of Deloitte's Greater Washington practice. "Vocus has proven to be one of the fast-growth success stories in Maryland, and we applaud their dedication to making their vision a reality."
To qualify for the Technology Fast 50, companies must have had operating revenues of at least $50,000 in 2002 and $5,000,000 in 2006, be headquartered in Maryland, and be a company that owns proprietary technology or proprietary intellectual property that contributes to a significant portion of the company's operating revenues; or devotes a significant proportion of revenues to the research and development of technology. Using other companies' technology or intellectual property in a unique way does not qualify.
Companies from the 16 regional Technology Fast 50 programs in the United States and Canada are automatically entered in Deloitte's Technology Fast 500 program, which ranks North America's top 500 fastest growing technology, media, telecommunications and life sciences companies. For more information on Deloitte's Technology Fast 50 or Technology Fast 500 programs, visit http://www.fast500.com.
About Deloitte
Deloitte refers to one or more of Deloitte Touche Tohmatsu, a Swiss Verein, its member firms and their respective subsidiaries and affiliates. As a Swiss Verein (association), neither Deloitte Touche Tohmatsu nor any of its member firms has any liability for each other's acts or omissions. Each of the member firms is a separate and independent legal entity operating under the names "Deloitte", "Deloitte & Touche", "Deloitte Touche Tohmatsu" or other related names. Services are provided by the member firms or their subsidiaries or affiliates and not by the Deloitte Touche Tohmatsu Verein.
Deloitte & Touche USA LLP is the US member firm of Deloitte Touche Tohmatsu. In the US, services are provided by the subsidiaries of Deloitte & Touche USA LLP (Deloitte & Touche LLP, Deloitte Consulting LLP, Deloitte Financial Advisory Services LLP, Deloitte Tax LLP and their subsidiaries), and not by Deloitte & Touche USA LLP.
About Vocus, Inc.
Vocus, Inc. (NASDAQ: VOCS) is a leading provider of on-demand software for public relations management. Our web-based software suite helps organizations of all sizes to fundamentally change the way they communicate with both the media and the public, optimizing their public relations and increasing their ability to measure its impact. Our on-demand software addresses the critical functions of public relations including media relations, news distribution and news monitoring. We deliver our solutions over the Internet using a secure, scalable application and system architecture, which allows our customers to eliminate expensive up-front hardware and software costs and to quickly deploy and adopt our on-demand software. Vocus is used by more than 2,000 organizations worldwide and is available in five languages. Vocus is based in Lanham, MD with offices in North America, Europe, and Asia. For more information please visit http://www.vocus.com or call 800.345.5572.
This release contains "forward-looking" statements that are made pursuant to the Safe Harbor provisions of the Private Securities Litigation Reform Act of 1995. Statements that are predictive in nature, that depend upon or refer to future events or conditions, or that include words such as "may," "will," "expects," "projects," "anticipates," "estimates," "believes," "intends," "plans," "should," "seeks," and similar expressions. Forward-looking statements involve known and unknown risks and uncertainties that may cause actual future results to differ materially from those projected or contemplated in the forward-looking statements. Forward-looking statements may be significantly impacted by certain risks and uncertainties described in Vocus' filings with the Securities and Exchange Commission.
Press Contact:
Robin Lane
Vocus, Inc.
301-683-6022
###