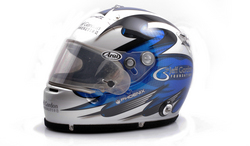 The Foundation was very excited to help create the helmet that Jeff wore at the Prelude to a Dream dirt track race
Grandview, Mo. (PRWEB) October 4, 2007
Four-time NASCAR Cup Series champion and current Chase for the NASCAR NEXTEL Cup contender Jeff Gordon is donating a one-of-a-kind helmet, a historic racing uniform and other pieces of invaluable memorabilia for a series of online auctions that will benefit The Jeff Gordon Foundation. The auctions will give racing fans and collectors the opportunity to own unique pieces of racing history which have never before been made available to the general public.
The online auctions are being hosted by GoMotorBids.com, the official online auction house of The Jeff Gordon Foundation and Jeff Gordon, Inc., and include the helmet that Gordon wore at the Prelude to a Dream celebrity dirt race at Eldora Speedway, plus the firesuit he donned while competing in the 2007 Rolex 24 Hours of Daytona event. Both of these items, as with all those featured in The Jeff Gordon Foundation auctions at GoMotorBids.com, have been personally autographed by the NASCAR champion.
"The Foundation was very excited to help create the helmet that Jeff wore at the Prelude to a Dream dirt track race," said Jules Moss, business development manager for The Jeff Gordon Foundation. "It is the first time that a foundation helmet has been designed and worn by Jeff. We are always looking for unique items and this will definitely appeal to the avid collector as well as help to support children with chronic and life-threatening diseases."
The firesuit was worn by Gordon earlier this year in the twice around the clock race -- the first time Gordon had participated in a sports car endurance race. He competed with the No.10 SunTrust Pontiac Riley team, and shared driving duties with road racing aces Jan Magnussen, Max Angelelli and Wayne Taylor. The team finished third overall, putting Gordon on the podium in his first time out behind the wheel of a Daytona Prototype.
"The moment we announce auctions like this, I'll start getting flooded with calls and emails asking about how much they are worth," said Russ Dickey, director of marketing for GoMotorBids.com. "Jeff Gordon is one of the most talented and successful drivers of our generation, and will go down in history as one of the greatest of all time. So how do you put a value on pieces like this which mark highlights in his already stunning career?"
Dickey added he'll let the market dictate what their value is. "The starting bid for these is only a dollar and they won't have any reserve prices, so we'll let the collectors and fans tell us what they are worth through the bidding process."
Other notable upcoming auctions will include a #24 DuPont Monte Carlo go-kart, the "hat-dance" caps that Gordon wore in victory lane after his 77th win at Talladega in April, sheet-metal from a special Jeff Gordon Foundation Underdog show car, and even a custom made PRS electric guitar painted by renowned car customizer Chip Foose which was autographed by Foose, Gordon and legendary guitarist Carlos Santana. Each auction item is accompanied by a special Certificate of Authenticity, jointly crafted by Jeff Gordon, Inc. and GoMotorBids.com which has been designed to thwart counterfeiters. For more information and to view the first items up for auction, visit http://www.GoMotorBids.com.
About The Jeff Gordon Foundation
The Jeff Gordon Foundation was established in December of 1999 by the four-time NASCAR Nextel Cup Series champion. The mission of the foundation is to improve the lives of children facing life-threatening and chronic diseases by supporting pediatric medical care and initiatives that address the emotional needs of these special children. The Foundation is a non-profit 501 (c)(3) organization that benefits The Leukemia and Lymphoma Society, The Make-A-Wish Foundation, Riley Hospital for Children, The Marrow Foundation in partnership with the Hendrick Marrow Program and the Jeff Gordon Children's Hospital. For more information visit http://www.jeffgordonfoundation.org
About GoMotorBids.com:
GoMotorbids.com is an online auction house that specializes in automotive and racing collectibles and memorabilia. Anti-fraud and bidder-protection policies have made GoMotorbids.com the premier and trusted source for "automobilia" among collectors.
###