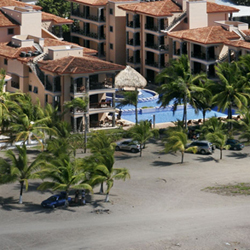 The website is intended to be a resource for luxury-minded travelers seeking information on quality Costa Rica tours and activities, as well as first-class beachfront accommodation
Jaco Beach, Costa Rica (PRWEB) October 5, 2007
DayStar Properties, the leading beachfront condo developer in Jaco Beach, Costa Rica, launched another Costa Rica vacation rental website, http://www.bahia-encantada.com, to introduce its most high-profile luxury condominium project to date - Bahia Encantada.
In addition to property details and booking information, the new site offers Costa Rica travel and tour information, maps and answers to frequently asked questions about Jaco Beach and the surrounding areas of Costa Rica's central Pacific coast. Online visitors can view photographs of interior and exterior spaces, read the latest news, and connect to DayStar's online booking feature.
"The website is intended to be a resource for luxury-minded travelers seeking information on quality Costa Rica tours and activities, as well as first-class beachfront accommodation," said Gretchen Gary, marketing manager with DayStar Properties. "Bahia Encantada is one of the most high-profile vacation communities in Jaco Beach, and we expect the new website to draw a considerable amount of interest."
A beautiful resort-like community, Bahia Encantada joins sister properties Bahia Azul and La Paloma Blanca in setting the precedent for a new trend for top-notch accommodation in Jaco - the luxury condo rental. Throughout Costa Rica, a tourism boom has signaled a rising standard in hospitality services, and brought with it a surge in the popularity of condo hotels. The benefit of having an exclusive private residence with all the services of a luxury hotel is particularly attractive to Costa Rica's more discerning travelers.
DayStar's most distinct beachfront property to date, Bahia Encantada offers 44 two and three-bedroom luxury condo rentals on the north end of Jaco Beach. Elegant architecture and a gorgeous central courtyard with its tri-level swimming pool succeed in creating an enchanted vacation community that is widely considered one of Jaco's most beautiful estates.
As Costa Rica continues to gain popularity as an internationally acclaimed destination, DayStar Properties is excited at the prospect of drawing more luxury travelers to Jaco, Costa Rica. Through online resources like DayStar's new website, the luxury travel circuit can learn more about the evolution of places like Jaco Beach, which was recently awarded the distinction of Central America's Leading Beach by the World Travel Awards 2007.
About DayStar Properties
DayStar Properties (http://www.daystar-properties.com) manages Bahia Encantada as well as two other luxury condominium communities - Bahia Azul and La Paloma Blanca - in Jaco Beach, Costa Rica. Beyond its property management division, the company is one of the largest condo developers on the central Pacific coast with seven existing projects on the Jaco beachfront.
To learn more, contact the DayStar reservations office from the United States at 800-784-4173 or within Costa Rica at 506-643-1290. For sales inquiries, call 877-552-6825 (US) or 506-643-2082 (Costa Rica).
###