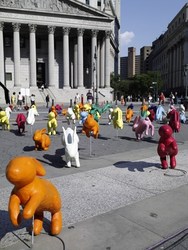 (PRWEB) October 4, 2007
The latest installment in the much loved BRAVIA advert series from Sony is released online today at colourlikenoother.com. The third advert follows in the footsteps of 'Balls' and 'Paint', which have quickly built up a cult following thanks to their memorable music and quirky style. 'Play-Doh' continues in the same vein and stars some 200 multi-coloured BRAVIA bunnies hopping through New York to a thumping soundtrack courtesy of the Rolling Stones.
As the BRAVIA bunnies make their way through the streets of NYC, they merge together and form a giant wave, which surges forward and crashes through the alleyways of the Big Apple. From the ripples a giant rabbit emerges, which rapidly grows to over 30 feet, towering over the amazed onlookers. The giant rabbit then dissolves into a cascade of brightly coloured Play-Doh cubes that dance to the Rolling Stones backing beat.
This amazing feat of animation features two and a half tonnes of Play-Doh, and is directed by multi-award winner Frank Budgen of Gorgeous fame. The ad is also the first in the BRAVIA advert series to be created with stop-frame animation, a technique familiar to audiences everywhere thanks to its use in the Wallace and Gromit films. A record 40 animators were needed to create a single scene. Up to six cameras recorded each shot and the final 60 second spot is made up of a staggering 100,000 stills.
The brainchild of advertising agency Fallon, who has created some of 2007's most memorable ads, the 'Play-Doh' advert saw Sony team up with Oscar award-winning production company Passion Pictures and showcases the talents of Juan Cabral. The BRAVIA advert will make its global debut on UK TV on Friday 5th October, at 9.10pm on Channel 4 - during the first episode of the new series of Ugly Betty.
James Kennedy, Sony Europe said of the new BRAVIA advert: "This was a massive undertaking. Having already set the standard high by releasing 250,000 bouncing balls on San Francisco and creating a pyrotechnical paint display in Glasgow, we knew we had to be ambitious with the new ad.
"BRAVIA TV fans have high expectations from our advertising and have been watching with interest to see what the third ad in the trilogy would be. This production has been a technical feat, and even with forty animators working together, it took more than four hours to create just four seconds of film. But the results are spectacular."
The unveiling of the advert coincides with the launch of Sony's colourlikenoother.com website, which demonstrates the latest capabilities of the BRAVIA TV. Visitors will see exclusive behind the scenes footage from the advert, immerse themselves in a BRAVIA soundscape and even register and name colours for themselves or friends.
Notes to Editor
Facts about production of the new Sony BRAVIA ad
3 week shoot, Foley Square NYC (located between the Financial District, Little Italy and TriBeCa)
6 x cameras
2.5 tonnes of Play-Doh used on set
189 2ft rabbits
150 1ft cubes
10ft x 20ft purple wave
30ft giant rabbit
40 animators
40 animators working on the same scene has never been attempted before
40 animators working for 4 hours generated 4 seconds of footage
The 60 second advertisement will be constructed of approximately 100,000 stills
About Paint & Balls:
'BALLS'

Under the search term 'bouncy balls San Francisco Sony', Google yields 274,000 results
Number of visitors to BRAVIA site on Sony.com increased by 50%
Online advert received 30m hits and 3m users downloaded it
3,000 unique blogs posted mentioning 'Balls' commercial
'PAINT'

On day of release download rate on the servers was peaking at over 600mb per second due to requested content
In the first week of the campaign 1 million visits to bravia-advert.com were recorded
In general consumers were navigating towards the ad themselves, a significant achievement in an era when the industry is consistently warned that consumers are opting out
About Frank Budgen:
Frank Budgen started directing commercials full-time in 1991 after leaving Boase Massimi Pollitt advertising agency where he was a copywriter and creative director.
His work was soon to establish him as one of the foremost commercials directors in the UK and within two years he was voted Director of the Year at the inaugural Midsummer Advertising Awards.
In 1997 he became a partner at Gorgeous Enterprises and since Frank has been at Gorgeous the company has won 'UK Production Company of the Year' three times.
About BRAVIA:
BRAVIA is synonymous with outstanding quality of colour and clarity of detail: a picture so good it enhances the viewing experience, no matter what you like to watch.
BRAVIA digital televisions offer exquisite design in a huge range of models, colours and sizes, from 20" - 70". You can choose from a number of advanced technologie, including SXRDTM and various unique picture enhancement features such as the renowned BRAVIA ENGINE.
All new BRAVIA televisions are HD ready and some BRAVIA series are even able to display the superior 1080p High Definition picture in amazing 6,2 megapixel detail. BRAVIA televisions have up to three HDMITM connections for enhanced High Definition connectivity. You can connect any HD device to your BRAVIA with just one type of cable (HDMITM) and with no loss of HD picture or sound quality.
BRAVIA is committed to helping prevent climate change and the brand has won considerable acclaim for its energy-saving televisions.
All Sony digital televisions feature a built-in digital terrestrial tuner and some even offer integrated HDTV tuners for the next generation of terrestrial free-to-air broadcasts in stunning High Definition.
About Sony:
Sony manufactures audio, video, communications and information technology products for the global consumer and professional markets. With its music, pictures, game and online businesses, Sony is uniquely positioned to be one of the World´s Leading Consumer Brands. Sony recorded consolidated annual sales of EUR 54.96 billion (yen 7,475 billion) for the fiscal year ended March 31, 2006 and it employs approximately 158,500 people worldwide.
In Europe, Sony recorded consolidated annual sales of EUR 12.61 billion (yen 1,715 billion) for the fiscal year ended March 31, 2006, based on an average market exchange rate for the same period of yen 136 to the EUR. Sony Europe, headquartered at the Sony Center am Potsdamer Platz in Berlin, is responsible for the company's European electronics business and registered consolidated sales of EUR 8.22 billion (yen 1,118 billion) for the fiscal year ended March 31, 2006.
For more information on Sony Europe, please visit sony-europe.com and sony-europe.com/presscenter
Contact:
Rob Boella
immediate future Ltd
T: 0845 408 2031
http://www.immediatefuture.co.uk/
###