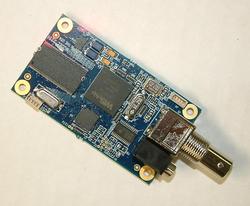 Portland, OR (PRWEB) October 5, 2007
Sensoray announced the newest addition to their USB video capture line of products, the 2251. The 2251 provides MPEG and JPEG video compression to Linux and Windows computers via a high speed USB connection. The 2251 accepts an NTSC or PAL composite analog video source. Adjustable resolution and bitrate selections allow the user to define their quality and storage requirements. Sensoray includes a Software Development Kit, SDK, with all of their 2251's with support for Linux and Windows based computers. The included SDK supports multiple units per computer.
Motion Detection
The 2251 supports motion detection in three user programmable regions of interest. For each separate region of interest, the user can set up different levels of motion detection sensitivity. Within each of the regions of interest, motion can be further localized to a 16x16 pixel block.
Synchronous Audio:
The 2251 supports synchronous audio capture from a line level input.
Availability and Pricing:
The 2251 is available immediately with pricing starting at $226. Quantity price breaks are available.
About Sensoray:
Sensoray designs and manufactures OEM electronics for video imaging, data acquisition and machine control. Offering drivers for Windows or Linux, and live technical support, Sensoray is committed to helping ensure easy and rapid development. For more information, visit http://www.sensoray.com.
###