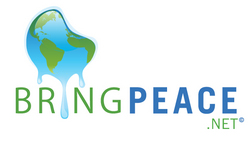 I conceived the site because of a need
Providence, RI (PRWEB) October 4, 2007
BringPeace.net today announced that its website is now live and open for business. The website features exclusive apparel and products aimed at manifesting a more conscious and harmonious world, and that appeal to a higher level of conscience.
"I conceived the site because of a need," said founder and owner Neal D. Bogosian. "I believe we are living in some of the most unique times in the history of human civilization, and people need to start thinking and becoming more aware of the world around them. The rapid pace of major events, globally, is cause for concern, and it is thus imperative that people think in the right way and reawaken to their full potential. The mind is an immensely powerful, but vastly underutilized instrument. Mentally, people truly can shape not only their reality, but also that of the world in which we live. It is with these thoughts that I launch BringPeace.net."
Bogosian's universal messages, printed on high-quality t-shirts, silicone bracelets and stickers, are intended to elicit peaceful ideals. The site also features organic cotton visor beanies. "There will be no guilt in wearing these products, because they are good for the world," said Bogosian. "I hope they can aid in building a happier reality for everyone who buys them." The t-shirts are already garnering significant attention in the private sector.
Plans are in place to expand the site's product line and reach during the coming year, including the expansion of its eco-friendly, organic cotton clothes line, which will soon boast organic bags, shirts and ball caps.
BringPeace.net is a privately held ecommerce website.
Neal D. Bogosian is also a professional freelance writer with print and electronic credits.
http://www.BringPeace.net… Building a More Conscious Tomorrow, One Body at a Time!
###