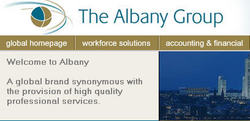 An Evening Under the Stars
Fort Lauderdale, Fla. (PRWEB) October 4, 2007 –-
International contingent workforce management company Albany will be a featured sponsor and event host of the 2007 Contingent Workforce Strategies (CWS) Summit, to be held October 23-24 at the Fairmont Hotel in Dallas, Texas.
In addition to sponsoring the summit, Albany will also host "An Evening Under the Stars" at the Dallas Museum of Art on October 23, beginning at 7:00 p.m. Docents will be on hand to offer insight into several of the Museum exhibitions, followed by dinner in the Museum's world-renowned Sculpture Garden. With a diverse menu inspired by Albany's presence in all the regions of the world, the event promises to offer something for every palate. As space is limited, advance registration for this free event is recommended.
Produced by Staffing Industry Analysts, Inc., the premier research and analysis firm covering the contingent workforce, the CWS Summit is in its third year and is the only conference that focuses on the issues of sourcing and managing a contingent workforce. Through expert presentations, case studies and peer networking, attendees will obtain a clear sense of best practices and next steps to optimize their contingent workforce programs.
The summit provides a perfect arena for Albany's areas of expertise. Albany's Employer of Record service enables companies to more efficiently and cost effectively engage the talent they need, while minimizing the risks associated with contract labor. Albany acts as a traditional employer—hiring the workers as their own W2 employees, capturing time and expenses, processing payroll, providing benefits and HR support to them. They also offer 1099 compliance services and software and global expertise in workforce management, working with companies in over 70 countries.
"Staffing Industry Analysts do a great service to the industry by creating an opportunity for contingent workforce personnel to learn and to connect," said Jason Posel, senior vice president of Albany. "We hope that our evening at the museum fosters a free flow of interaction that ultimately benefits the industry."
To reserve space at the dinner event, please visit http://www.thealbanygroup.com/cws/.
About Albany
Albany, http://www.thealbanygroup.com, is a worldwide Employer of Record and contingent workforce management company. With offices worldwide serving clients in 70 countries, Albany offers a variety of national and international workforce solutions, including payroll and tax services, vendor management, tax and labor law compliance and visa services.
About CWS
The Contingent Workforce Strategies (CWS) Summit is the only conference designed especially for corporate managers of contingent workforce programs. CWS Summit is produced by Staffing Industry Analysts, Inc., the premier source of business intelligence, market data, news and analysis to employers who use a contingent workforce and their suppliers. For more information, please go to http://www.staffingindustry.com/cws_conference.
Contact:
Jason Posel
Senior Vice President
1-800-664-5508
Jason.Posel(at)thealbanygroup.com
http://www.thealbanygroup.com/usa
This press release was distributed through eMediawire by Human Resources Marketer (HR Marketer: http://www.HRmarketer.com) on behalf of the company listed above.
###