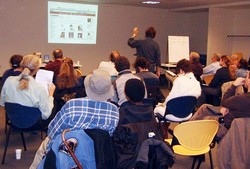 As an indie musician, I understand how overwhelming it can be to not only create music, but also figure out how to get exposure, connect with fans, sell your music, and generate more money coming in
Chicago, IL (PRWEB) October 4, 2007
Bob Baker, author of "Guerrilla Music Marketing Handbook," will present his highly acclaimed workshop, "7 Secrets to Low-Cost Music Promotion," on Sunday, Oct. 21, at the Chicago Actors Studio, 2040 N. Elston, from 1 to 3:30 p.m. Tickets are $35 per person in advance and $40 at the door. Seats can be purchased online at http://www.TheBuzzFactor.com.
The workshop, which previous participants have described as "inspiring, fast-paced and interactive," will cover the nuts and bolts of music marketing and reveal the "seven secrets" any indie musician can use to get wider exposure and attract more fans. Recent events in Nashville, St. Louis and Asheville, NC, have sold out.
"As an indie musician, I understand how overwhelming it can be to not only create music, but also figure out how to get exposure, connect with fans, sell your music, and generate more money coming in," Baker says. "My goal is to help artists of all kinds demystify this process. Marketing is not as complicated as many musicians make it out to be. This workshop is full of real-world advice on how independent artists on a budget can effectively promote themselves."
During this two-and-a-half-hour session, Baker will reveal:

The three steps to effective music marketing.
What you need to know about the "Marketing Diet" and "The Dip."
The #1 thing you should focus on to boost your music career.
The four crucial "D-words" of music marketing.
The three types of fans you need to know about -- and why they're so important.
How NOT to promote your music to the media.
And much more.
Jeffrey P. Fisher, author of "Ruthless Self-Promotion in the Music Industry" and five other books, will join Baker as a special guest speaker for part of this event.
Baker, whose other books include "MySpace Music Marketing," "Unleash the Artist Within," and "Branding Yourself Online," recently announced the launch of his new "Music Marketing 101" course for BerkleeMusic.com, the online education arm of the renowned Berklee College of Music in Boston.
A widely hailed indie music marketing advocate, Baker has been featured on NPR's "Morning Edition" and in magazines such as "Electronic Musician," "American Songwriter," "Music Connection" and "VIBE." He has also been a speaker and panelist at many conferences, including SXSW, the Nashville New Music Conference, and the East Coast Music Awards in Canada. For more information about the workshop and Bob Baker, visit http://www.TheBuzzFactor.com.
# # #