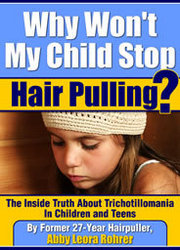 Why Won't My Child Stop Hair Pulling? The Inside Truth About Trichotillomania in Children and Teens
Lafayette, CO (PRWEB) October 4, 2007
As national Domestic Violence Awareness Month begins, Facilitated Recovery, LLC announces the release of " Why Won't My Child Stop Hair Pulling? The Inside Truth About Trichotillomania in Children and Teens" by Abby Leora Rohrer. Rohrer is a powerful teacher whose work with compulsion sufferers gives her profound insight into the consequences of subtle and unrecognized forms of family violence.
While not all compulsive hair pulling in children and adolescents stems from violence within the family, the guide uncovers insidious ways that real and perceived abuse within close relationships twists lives and frequently produces long-term problems, including hair pulling and other forms of self-injury.
Culturally, we have vastly underestimated the amount of unhealed trauma that exists around us as a result of domestic violence. Domestic violence is an epidemic that comes in many abuses: physical, psychological, emotional and sexual. It is commonly believed that physical violence creates the greatest negative consequences, but this belief is erroneous. Emotional and psychological violence within the family is even more frequent, and consequently, children are at great risk for taking on self-harming behaviors.
Trichotillomania, which affects up to fifteen million Americans, is one of these self-harming behaviors. Those who suffer with it are driven to pull hair from their scalps, eyelashes, eyebrows or other parts of their bodies. Compulsive hair pulling is especially painful for children and teens because they face added social pressures and scrutiny in many challenging public environments such as school, day-care, team sports, extra-curricular activities, camps, church events and more.
According to Rohrer, "The most common hidden effect of subtle family abuse may well be destructive habits and self-harming behaviors, such as compulsive hair pulling. These issues begin as a way to cope with emotional pain in childhood and adolescence and may go on to become a powerful addiction. Problems like this are greatly misunderstood and leave sufferers to silently hide in shame."
"Why Won't My Child Stop Hair Pulling? The Inside Truth About Trichotillomania in Children and Teens" is geared toward "destigmatizing" hair pulling and educating parents on how they can personally help their child to end the problem. Additionally, this guide provides a valuable resource for counselors and psychotherapists wanting to better help compulsive hair pulling clients of all ages, and for adult sufferers to learn more about why they may have begun and continue to habitually hair pull.
"'Why Won't My Child Stop Hair Pulling?' is a triumph for hair pullers worldwide and their families. With wisdom and insight, Abby Rohrer tells the true inner tale of the hair pulling compulsion ... Rohrer's insights into hair pulling as an issue of relationship will empower so many who struggle desperately for freedom and for hope .. and provides real skills and tools for hair pullers of all ages, and parents, to deal more effectively with their feelings, heal and move forward to live wonderful lives full of meaning and joy!" -- Mary F. Zesiewicz, MD, Board Certified Psychiatrist, Adult, Adolescent, Child Psychiatry
For more information and to order "Why Won't My Child Stop Hair Pulling? The Inside Truth About Trichotillomania in Children and Teens," visit http://www.HairpullingChild.com or http://www.pullfreeatlast.com, or call 303-546-0788 or write: Facilitated Recovery, LLC, PO Box 664, Lafayette, CO 80026. To schedule an interview with Abby Rohrer, please call Stephanie Brown at 303/546-0788.
# # #