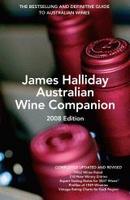 (PRWEB) October 8, 2007
For more than 15 years Australia's leading wine authority James Halliday has compiled detailed tasting notes on thousands of Australian wines annually, each with vintage-specific ratings and advice on optimal drinking, as well as each wine's closure, alcohol content and price, creating a vast archive of invaluable information on Australian wines and wineries.
For the first time, this information will be available online in a fantastic new project which was officially launched October 1, 2007. James Halliday and Hardie Grant Books have joined forces to develop the winecompanion online, a comprehensive resource with information on Australian wines and wineries spanning the past 15 years. Never before has such a wealth of knowledge on wine been so accessible.
Members of winecompanion.com.au can login and access hundreds of detailed tasting notes and ratings for wines by James. Non-members also have plenty to access, including information on the best wines and wineries for 2008, Australian wine industry information and details on every winery in current operation in Australia. The features of the site include:

easy access to the 37 000+ tasting notes and ratings for members
options to search via wine label, region, rating or variety
search results that allow the user to view multiple tasting notes on the same page
An interactive map, facilitating the users' search for wineries via state, region or winery keyword
This exciting new online resource is a must for anyone interested in drinking, cellaring and collecting Australian wine.
For further information please contact Jenny Macmillan on jennymacmillan(at)hardiegrant.com.au or +61 3 8520 6444.
###