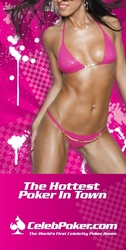 CelebBlackjack has been a really popular addition to our portfolio with players from all over the world really enjoying the high-quality casino gaming experience
London, UK (PRWEB) October 5, 2007
CelebBlackjack today announced that British player, John F, had won a cool €25,000 in one day playing online Blackjack. The jackpot win occurred on Tuesday 2nd October as the Brit 'cleaned up' playing single deck blackjack.
Blackjack, also popularly known as Twenty-One or Pontoon is one of the most popular casino card games in the world, and the last twelve months has seen a real growth in interest with land-based an online tournaments generating a real enthusiasm for the game.
"CelebBlackjack has been a really popular addition to our portfolio with players from all over the world really enjoying the high-quality casino gaming experience," said Dave Donovan, CEO CelebPoker. "I think it is great to see a lucky player striking it rich so soon after its launch. Congratulations go to John; and we look forward to putting more names on our winner's list soon."
The addition of blackjack to CelebPoker's portfolio is the first of several new games that CelebPoker plan to introduce, with a full casino and sportsbook set to follow soon.
For more information and to download free software, visit CelebPoker
About CelebPoker.com:
CelebPoker.com is an exciting, fully licensed and regulated online poker room dedicated to helping online poker players find fame and fortune by honing their skills on the site, and providing them with the opportunity to become sponsored players at major live poker events. CelebPoker is unique in that it is committed to turning players from its online poker community into real live poker celebrities! For more information, please visit: CelebPoker
More About CelebBlackjack:
CelebBlackjack is an exciting, fully licensed and regulated gaming room dedicated to providing the ultimate blackjack playing experience to the worldwide blackjack community. CelebBlackjack's service is available only to non-U.S. players. For more information, please visit: CelebPoker.
###