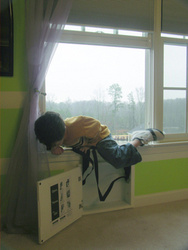 Security and safety is a crucial part of any 'smart home.' We support that notion by offering products like PEARL -- products that provide an extra and necessary level of safety for our customers
Atlanta, Georgia (PRWEB) October 4, 2007
PEARL Protected®, creators of the patented Permanent Escape And Rescue Ladder (PEARL®) for two and three-story homes, today announced that consumers and distributors can now purchase PEARL through Smarthome's direct mail catalog and website. Smarthome is the world's largest home automation retailers offering a single, easy-to-use source for thousands of affordable lighting, security and home entertainment products.
"Security and safety is a crucial part of any 'smart home.' We support that notion by offering products like PEARL -- products that provide an extra and necessary level of safety for our customers," said Brian McCullough, category manager, Smarthome.
The PEARL permanent escape ladder will be one of 5,000 home products offered online at http://www.smarthome.com and in Smarthome's direct mail-order catalog, which boasts an annual circulation of four million. The ladder will be listed under Smarthome's recently-launched Security & Personal Safety category.
"Smarthome has an impeccable reputation for providing the latest in home automation and security. The fact that they recognize the need for permanent escape solutions in the home puts them a cut above the rest," said David Duley, CEO, PEARL Protected.
A recent study from the National Fire Protection Association found that nearly 75 percent of the nation's fire departments are unable to comply with widely recognized response time guidelines because they don't have enough fire stations or firefighters. In effect, residents must have a safe and readily-available alternative means of escape from upstairs rooms in case fire rescue personnel are not able to arrive on the scene in time.
The PEARL escape ladder meets these requirements. Because PEARL can be permanently recessed into the interior wall space below second and third-story windows, homeowners have peace of mind knowing they have a reliable and easy-to-use means of escape right where they need it, when they need it.
Since its October 2005 debut, PEARL has become one of the most recognized home safety products in the marketplace. PEARL received the 2006 Product Innovation Award from the Home Safety Council as well as several other building product awards. PEARL has also been featured in two different episodes of ABC's "Extreme Makeover: Home Edition" and has been showcased on NBC's "Today" and CBS's "The Early Show." For more information about PEARL Protected, visit http://www.pearlprotected.com.
About PEARL Protected:
Headquartered in Atlanta, Georgia, PEARL Protected is redefining the standards of home and fire safety through its patented, breakthrough product -- PEARL -- a revolutionary Permanent Escape And Rescue Ladder that can be quickly and easily deployed in the event of a residential fire or other home emergency. It is currently available through a variety of channels, including the nation's largest homebuilders and building supply dealers. PEARL can also be ordered directly through the PEARL Protected website (http://www.pearlprotected.com) or via phone at 800.374.5737.
###