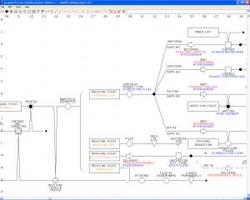 Tipp City, OH (PRWEB) October 5, 2007
The Ben Graham Corporation, a pioneer and leader in process improvement, announces the release of a Starter Edition of their globally-renowned Graham Process Mapping Software. The Starter Edition is a low-cost, entry-level solution for Business Process Improvement and process development work.
The Graham Process Mapping method is significantly different than typical high-level box and arrow flowcharts that are commonly used to identify processes. Graham Process Maps help people understand the details of their information processes. Graham maps display the flow and relationships of every form or record in a process and they show the flow of each item (form, document, email, spreadsheet, database...) at a basic level. The work is broken down to five fundamental activities (3 deal with item flow and 2 with the use of information) - Working with an item, changing information on an item, checking the information, moving an item from one location to another and delay or storage of an item (nothing happening). When dealing with the process at this level, it is easy to show who is doing the work and where the work is done.
Harold Peters, a Professional Engineer in the healthcare industry has been using Graham Process Maps for the past twenty years. Here is what Harold has to say, "Graham Process Mapping is not just another process mapping tool. It is tightly integrated with a superb improvement methodology that transforms the map into a team-based interactive improvement tool. No other mapping software is able to so quickly and simply show the details of a work process - details that make the waste and opportunities for improvement glaringly obvious. Graham Process Mapping enables one to map a process at a more detailed level and in less time than any other mapping software."
Unlike high-level box and arrow diagramming that is intended for documenting automation (showing what computer programs and systems do); Graham Process Mapping is designed specifically for documenting business processes (showing what people do as well as the automation). Graham Process Mapping has helped organizations save millions of dollars with streamlined processes and improved workflow.
The software, available as a download, includes two e-booklets to guide you through your first project: 'Business Process Improvement Methodology - An Introduction to Work Simplification' and 'Business Process Improvement Project Guide'. A 'Getting Started' e-manual gets you up and running with the software quickly. Several sample charts taken from actual processes demonstrate the features of the software.
The Starter Edition Software is priced at $99.00 US. Through the month of October, it can be purchased at an introductory price of only $89.00 US. For more information and to purchase the software, visit:
Process Mapping Software
For a fully operational evaluation copy of the software, visit: Process Mapping Evaluation Software
About the Ben Graham Corporation
This month marks the beginning of the Ben Graham Corporation's 55th year conducting process improvement workshops. The first was held in October 1953 at the Edgewater Hotel in Madison Wisconsin. The Ben Graham Corporation has provided process improvement training and consulting services since 1953. Graham Process Mapping Software was introduced in 1990 and is helping organizations worldwide build better business processes.
###