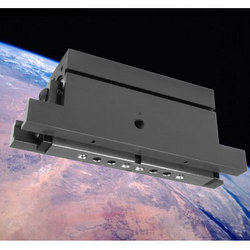 Elyria, OH (PRWEB) October 9, 2007
ZAYTRAN, Inc. announces a new series of long-stroke, parallel, pneumatic grippers. The new GPL Series of precision grippers is designed to significantly increase the payload capability of automation systems by reducing the weight of the grippers. Because grippers are part of the payload robot or fixed automation systems, a gripper's mass is critical to the cost and efficiency of the system. The new GPL Series grippers offer the highest Force-to-Mass ratio on the market by employing modern manufacturing techniques and selecting materials and treatments that reduce mass.
"The Space Age started in 1957 with the launch of the USSR's Sputnik. While tool steel is durable we have had 50 years to understand how to use lighter and stronger materials to get a job done. Launching payloads into space is directly analogous to moving payloads with automation system here on earth. We can't afford the inefficiency of using 1940 materials to build our automation systems. ZAYTRAN has advanced the pneumatic gripper market into the 21st century with the new GPL Series," said Ted Zajac, Jr., President of ZAYTRAN, Inc..
An accompanying chart shows the Force to Mass ratio of the new GPL Series of parallel grippers and those of the competition (based on catalog information). Various aluminum alloys were employed with custom tempering and heat treatments to reduce mass. In most all cases, the new materials exceeded the durability of the classic materials in life tests. In addition, the design was refined to reduce the number of steel fasteners utilized by reducing parts count with current CNC tooling.
Lean and flexible manufacturing are watch words of today's manufacturing engineers. The new GPL Series supports these concepts by offering the longest strokes in the market. This permits a system to handle an extreme range of part size without changing jaws or other tooling.
ZAYTRAN Automation is a world leader in the design and manufacture of grippers for harsh environments, Class One clean rooms, and locating devices for car body fabrication. ZAYTRAN Grippers are on the web at http://www.grippers.com.
###