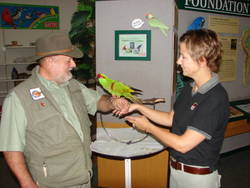 Reintroduction programs in the early '90s were unsuccessful, so we are hoping to provide our thick-billed parrot friends-Charlie, Sierra, Sonnora, and Guappo-with a safe new home at the World Bird Sanctuary
Chilton, WI (PRWEB) October 5, 2007
KAYTEE® Products, Inc. of Chilton, Wis., a leading manufacturer of wild and pet bird foods, announces a donation of four extremely rare, thick-billed parrots to the World Bird Sanctuary in St. Louis, Mo. On Monday, October 1, the parrots were transported to their new home where wildlife conservationists hope to preserve and breed the species.
"With the Carolina parakeet already being extinct, saving the thick-billed parrot is our only hope of preserving the United States' last parrot species," said Michelle Goodman, manager at KAYTEE'S Avian Research Center. "Reintroduction programs in the early '90s were unsuccessful, so we are hoping to provide our thick-billed parrot friends-Charlie, Sierra, Sonnora, and Guappo-with a safe new home at the World Bird Sanctuary," added Goodman. Held in captivity through illegal trades, the U.S. Fish and Wildlife Foundation rescued these parrots and transferred them to KAYTEE in 1994 for educational purposes.
Thick-billed parrots, characterized by their bright green plumage, red foreheads and a call that resembles human laughter, primarily live in the Sierra Madre mountain range in Mexico and once ranged as far north as New Mexico and Arizona. Threatened by hunting and habitat loss, roughly 2,500 of this species remain worldwide, and they haven't been seen in the wild for many years.
The sanctuary's mission is to secure the future of threatened bird species in their natural environments. Walter C. Crawford, executive director of the World Bird Sanctuary says, "We have the perfect facility to help secure the future of the thick-billed parrot. We have propagated dozens of species from bald eagles and savannah hawks, to Egyptian vultures and peregrine falcons. We are delighted that KAYTEE has selected the World Bird Sanctuary as the parrots' new home."
KAYTEE Products, Inc. manufactures high-quality, innovative foods and specialty products for pet and wild birds, small companion animals, backyard wildlife, reptiles, and pond fish. KAYTEE also promotes avian education, conservation, and research through the KAYTEE Avian Foundation, a nonprofit organization dedicated to preserving birds and their habitats. For more information about KAYTEE, visit http://www.kaytee.com.
KAYTEE is a wholly owned subsidiary of Central Garden & Pet Company, based in Walnut Creek, California-a leading innovator, marketer and producer of quality branded products for the lawn & garden and pet supplies markets. Products include: Wild bird feed and the brands PENNINGTON® and KAYTEE®; Animal health, aquatics and reptile, bird & small animal and the brands KAYTEE, SUPER PET® and CRITTER TRAIL® dog & cat and the brands TFH™ / NYLABONE®, FOUR PAWS®, PINNACLE® and Avoderm and; equine and the brands FARNAM®, BRONCO® and SUPER MASK®. For additional information on Central Garden & Pet Company, visit http://www.central.com.
###