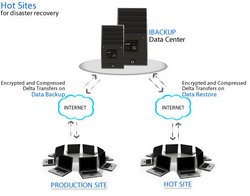 Hot site based disaster recovery used to be the solution of choice only for large enterprises, such as large financial and healthcare units. This is the most advanced form of disaster recovery as it lets the business recover to normal operations within a few hours even in the event of a disaster, but it is also the most expensive, until now
Woodland Hills, CA (PRWEB) October 5, 2007
A hot site is a duplicate of the original site of the business, with full computer systems as well as near-complete backups of user data. Following a disaster, the hot site enables business to relocate with minimal losses to normal operations. Ideally, a hot site will be up and running within a matter of hours. IBackup now offers a hot site disaster recovery solution using its flag ship IBackup for Windows application.
"Hot site based disaster recovery used to be the solution of choice only for large enterprises, such as large financial and healthcare units. This is the most advanced form of disaster recovery as it lets the business recover to normal operations within a few hours even in the event of a disaster, but it is also the most expensive, until now," says Shweta Sachdeva, COO at Pro Softnet Corp.
The IBackup for Windows based hot site recovery solution involves setting up of unattended perioidic data transfers from primary location to an IBackup account, followed by another such transfer in reverse from IBackup account to the hot site. Since IBackup for Windows utilizes highly efficient compression and delta transfer technology for both transfers, the whole system is highly scalable and efficient. Internal tests using live user data for multiple terabytes of data have been successful with only a few hours delay in data sync between the two centers.
Another advantage of IBackup for Windows-based hot site recovery solution is its ability to work with both the primary and hot site unit setup within private networks. Traditional hot site recovery solutions often require at least one of the units to be on public IP.
"The biggest advantage of the IBackup solution is the cost; businesses do not need to spend anything more than their current IBackup plans for their data protection; hot site recovery solution is offered free. For those who don't have an IBackup plan yet, can simply signup for any of the IBackup plans and implement this hot site based disaster recovery solution," said Raghu Kulkarni, President and CEO of Pro Softnet Corp.
Plans range from 5GB to 300GB for online signup, and higher with custom accounts. These plans and the new hot site recovery solution brings high end disaster recovery plan to small businesses.
Details on this solution can be viewed at http://www.ibackup.com/hot-sites/
Additional information on IBackup can be viewed at http://www.ibackup.com.
About IBackup
IBackup (http://www.ibackup.com ), a SAS70 compliant service, is a leading online backup and storage solution for consumers and small businesses with features including open file backup, hot backups for Exchange and SQL servers, compressed and encrypted backups with delta transfers and more.
IBackup has also been in receipt of many accolades including editor's choice by PCWorld magazine for 2006 and has in the past been the PCMagazine editors choice pick for 2004 and the PCPro award winner. IBackup has, in the recent past, been awarded with the Webuser gold award in the entire online backup category.
# # #