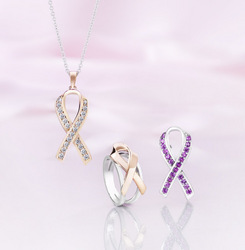 too big or too small.
Scottsdale, Ariz. (PRWEB) October 5, 2007
In honor of October and Breast Cancer Awareness Month, Addison Taylor Fine Jewelers of Scottsdale, Arizona has created a one-of-a-kind collection called A Cure is Forever, to support the Phoenix Affiliate of Susan G. Komen for the Cure and their efforts with breast cancer research.
The A Cure is Forever collection includes a ring, lapel pin and necklace featuring the breast cancer awareness ribbon, which can be custom designed and ordered to fit the wearer's personality - by adding stones, changing metals, or even having significant initials and/or dates engraved on them. In order to help find a cure for the disease that kills roughly 40,000 women each year, Addison Taylor Fine Jewelry will donate 10% of every purchase from their new collection to the Phoenix Affiliate of Susan G. Komen for the Cure--and this offer extends past the month of October. In order to show their true commitment to finding a cure, Addison Taylor has pledged this offer for as long as people wish to purchase from them!
When asked why he has created the collection, Scott Berger, owner of Addison Taylor Fine Jewelry, says "My wife and I lost a dear friend to breast cancer at only 32 years old. We have all lost loved ones or been affected by this disease in one way or another and I have always wanted to design something in memory of our friend and for other people, and be able do it with great style and dignity. Now I have the great honor to be able to do this through Susan G. Komen."
About Addison Taylor Fine Jewelry:
Since opening its doors in 2005, Addison Taylor Fine Jewelry has combined the distinction of a luxury jeweler with the warmth of a family business. Every client receives a personal consultation with owner Scott Berger, who feels that there is no job "too big or too small." Clients have come to appreciate Scott's handmade authentic craftsmanship, personalized service and custom pieces far more than just running into the mall for something that "everyone" can wear.
While Addison Taylor's jewelry is extraordinary, their showroom environment is as unique as their designs. Located in a high rise in Scottsdale, Arizona, Scott has installed a pool table and a sleek lounge that transcends most retail jewelry purchase experiences. In addition to the unique environment, Scott takes the time to work with each client on their personal requests, whether it is restoring a family heirloom ring, creating the perfect engagement ring, or helping to design the perfect wedding party gifts. For more information, visit http://www.addisontaylorfinejewelry.com.
###