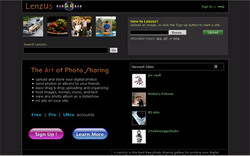 Our philosophy is to listen to our users and implement as many of their suggestions for the site as we can. That makes the site the best it can be for the people who use it every day
San Jose, CA (PRWEB) October 9, 2007
Family-owned LenzUs.com announces a site makeover to mark their first successful year as an official business. This photo sharing gallery site has been in continuous operation for seven years, offering a venue for families and friends to share their photos without having to look at ads. Since they've been an official company for a year, they're recognizing the event with renovations that make LenzUs.com more user-friendly. Changes include easy photo maneuverability; simple, pleasant emailing capabilities; improved site navigation tools; and something else that underlies the LenzUs.com philosophy: scores of improvements based directly on the recommendations of LenzUs.com users.
"Our philosophy is to listen to our users and implement as many of their suggestions for the site as we can. That makes the site the best it can be for the people who use it every day," says owner Enjay Sea, commenting on the evolution of the free online picture sharing site.
The new site has retained its hallmark dark background that provides the best picture sharing online platform. LenzUs.com believes that a white background can make viewers feel as though they're looking into a white spotlight; the site's dark background allows users to view the photos the way they might watch a movie in a theater. Thus the LenzUs.com slogan: "We've turned the lights out for you."
Picture sharing online, now made simpler with the new drag and drop capabilities, is available in three ad-free packages. Subscribers will find the uncluttered site fosters a central meeting place where families and friends stay in touch by posting their own photos on a common site. And with the new email capabilities, members can send a photo or an entire album to one or more friends when they log in to check for new posts.
LenzUs.com is a small but significant fish in the ocean of photo sharing websites:
"We appeal to those who want a simple, compelling platform on which to display their photographs and artwork, and we aren't really trying to compete with the big photo sharing sites. We've found that as people discover our site, a certain percentage can just sense the difference in quality, and end up choosing us to host their images. That's the group we're looking for, and who we've built the site for."
For more information about picture sharing online, please visit LenzUs.com.
LenzUs.com, a family-owned business for the past year, continues to survive amidst steep competition in the photo sharing market by keeping in touch with the user base and maintaining a low and manageable overhead. The LenzUs.com site has in fact been online for over seven years, providing free picture sharing and photo albums online.
###