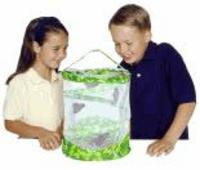 When girls are shown images of women scientists and given a greater sense of possibility about the person they could become, the boys get the message too--'I can do this!'
New Ringgold, PA (PRWEB) October 6, 2007
Educators are one step closer to solving the age-old chemistry problem: why do girls and science just not mix? NaturePavilion.com reports that new science programs and forward thinking school administrators are working to ensure that girls experiment with science at a young age.
In The Boston Globe article "Club Expands Formula Getting Girls in Science" by Janice O' Leary, The Science Club for Girls, a Cambridge club dedicated to boosting girls' confidence in science and math, is soon branching out to other Massachusetts communities. The Cambridge chapter of the club currently has 600 participants, and 100% of the girls have gone on to college after the program.
Connie Chow, Executive Director of The Science Club For Girls, believes that girls' interest in the sciences need to be supported while they are young.
"We're starting at a very young age because we want to nurture the natural curiosity children have for the world around us."
Like The Science Club For Girls, Thomas Jefferson High School in Fairfax County, Virginia, is committed to battling the stereotype that women aren't as smart as men in math and science. In "Decoding Why Few Girls Choose Science" by Valerie Strauss in The Washington Post, Jan Taylor, a school counselor at Thomas Jefferson, says that girls blossom in educational environments that promote a social and collaborative feeling. Science is typically seen as more individual-based, and this stereotype may turn girls away.
In the National Science Foundation's "Back To School: Five Myths About Girls and Science", the foundation notes that girls and boys have a stereotype of scientists.
"By second grade, when students (both boys and girls) are asked to draw a scientist, most portray a white male in a lab coat. The drawings generally show an isolated person with a beaker or test tube. Any woman scientist they draw looks severe and not very happy."
Yet, the National Science Foundation finds that when both boys and girls are supported in their scientific pursuits, their confidence in their skills dramatically increases.
"When girls are shown images of women scientists and given a greater sense of possibility about the person they could become, the boys get the message too--'I can do this!' "
Educational games and science kits may also help get girls interested in science at a younger age by encouraging a hands-on approach. Visit NaturePavilion.com for fun educational games and toys sure to pique a child's interest in science.
About Nature Pavilion.com:
Nature Pavilion.com was founded in 2001 and carries science-related educational toys and games. They pride themselves on exceptional customer service and a country-store feel. The online store grew from just 12 products to their current 1,400 kid's science kits, children's educational toys, science books, and nature craft kits. Nature Pavilion.com is committed to enriching the imaginations and minds of America's youth through educational children's toys.
# # #