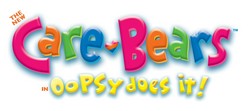 Los Angeles, CA (PRWEB) October 15, 2007
Celebrating 25 years of caring and sharing and being one of the strongest franchises in the toy, fashion, and entertainment categories, American Greetings Properties and Fox Home Entertainment present an all-new CGI animated adventure Care Bears: Oopsy Does It! premiering on DVD October 23. The release marks the Care Bears return with a new look and two new characters -- clumsy Oopsy Bear and bilingual Amigo Bear.
Fox Home Entertainment and American Greetings Properties will support the release of The Care Bears: Oopsy Does It with a targeted multi-million dollar marketing campaign which will include national television, cable, radio, print and online advertising, as well as an all new website, care-bears.com and multiple retail events and promotions. Along with the DVD release, American Greetings Properties is launching new Care Bears toy lines from Play Along that includes Oopsy Bear and a Limited Edition 25th Anniversary Care Bear with authentic Swarovski crystal eyes and sterling silver-plated accents (SRP $19.99). Each Care Bears: Oopsy Does It! DVD will be packaged with an exclusive Oopsy Bear toy (valued at $7.99) and will be available for the suggested retail price of $19.98 U.S./$21.98 Canada. Pre-book is September 26.
In addition, the Care Bears will be top-of-mind with consumers as they make their television comeback this fall, premiering on CBS Saturday morning cartoons. And, the 25th anniversary continues with a Care Bears float in the 2007 Macy's Thanksgiving Day Paradeâ, featuring a live performance of the new Care Bears theme song by vocalist Kay Hanley (Josie and the Pussycats).
Twentieth Century Fox Home Entertainment will celebrate the DVD release of the all-new Care Bears CGI animated adventure Oopsy Does It! by hosting a celebrity event benefiting St. Jude Children's Research Hospital, internationally recognized for its pioneering work in finding cures and saving children with cancer and other catastrophic diseases. The star-studded launch will be held at the Pacific Design Center on October 20, 2007 and will treat celebrities, their families and all invited guests to an afternoon featuring a "design your own Care Bear" station, photos with walkabout characters, and bear-y fun games and activities for kids of all ages! The event will culminate with the auction of 25 exclusive Care Bears decorated by the attending celebrities. Proceeds from the Care Bears auction will benefit St. Jude Children's Research Hospital. For more information on the auction please visit http://www.CharityBuzz.com.
Care Bears: Oopsy Does It! synopsis
Oopsy Bear is the only Care Bear without a belly badge. When Cheer and Grumpy Bear build an amusement park for their friends, Oopsy Bear accidentally destroys it. Grizzle, an evil bear, uses Oopsy's mistake in a plot to steal the Care Bears' belly badges. But, Oopsy stumbles to the rescue proving you don't need a badge to be a bear who cares.
Care Bears: Oopsy Does It! Bonus Features
Available in full screen format, The Care Bears: Oopsy Does It DVD is presented in English Dolby Digital 5.1, as well as English and Spanish Subtitles. The DVD bonus materials include a music video, "We Are The Care Bears," performed by Kay Hanley.
About Twentieth Century Fox Home Entertainment:
A recognized global industry leader, Twentieth Century Fox Home Entertainment LLC (TCFHE) is the worldwide marketing, sales and distribution company for all Fox film and television programming on VHS, DVD and Blu-ray Disc (BD) as well as acquisitions and original productions. The company also releases all products around the globe for MGM Home Entertainment. Each year TCFHE introduces hundreds of new and newly enhanced products, which it services to retail outlets -- from mass merchants and warehouse clubs to specialty stores and e-commerce - throughout the world. Twentieth Century Fox Home Entertainment LLC is a subsidiary of Twentieth Century Fox Film Corporation, a News Corporation company.
About American Greetings Properties:
American Greetings intellectual property and outbound licensing division, American Greetings Properties, was established to develop multi-platform entertainment, licensing, merchandising and promotional campaigns for its classic properties, as well as develop a new series of character brands. The impetus for setting up the division was inspired by the success of two properties, Care Bears and Strawberry Shortcake, which have each made $2 billion in retail sales, $4 billion collectively. For more information, visit http://www.agpbrands.com
About American Greetings Corporation:
American Greetings Corporation (NYSE: AM) is one of the world's largest manufacturers of social expression products. Along with greeting cards, its product lines include gift wrap, party goods, stationery, calendars, ornaments and electronic greetings. Located in Cleveland, Ohio, American Greetings generates annual net sales of approximately $1.7 billion. For more information on the Company, visit http://corporate.americangreetings.com.
About The Care Bears:
When introduced by American Greetings in 1982, the CARE BEARS property helped teach kids about the importance of caring and sharing. Led by Cheer Bear, Tenderheart Bear, Share Bear and other beloved characters, the CARE BEARS connected with children and families the world over. In 2002, the CARE BEARS made a grand re-entrance and sparked consumer demand for CARE BEARS products among a new generation of kids and teens, as well as parents who originally grew-up with the brand. America's favorite bears have generated over $2 billion in retail sales worldwide since the re-launch of the property in 2002, demonstrating its appeal as a true classic and evergreen property. Along with an updated look, new products, home entertainment, and a new television series set to debut in Fall 2007, the CARE BEARS continue their caring and sharing mission in 2007 and beyond. CARE BEARS is a registered trademark of Those Characters from Cleveland, Inc. All Rights Reserved.
To download press materials, please visit http://www.foxpressroom.com.
Care Bears: Oopsy Does It DVD
Price:
$19.98 U.S./$21.98 Canada
Street Date:
October 23, 2007
Running Time:
71 min
Catalog Number:
2246072
Screen Format:
Full screen
MPAA:
NR
Language:
English
Closed Captioned:
YES
Contacts:
Print/Radio Media Contact:
Andrea Blain
Andrea Blain Public Relations
847-933-9884
Erin O'Brien
20th Fox Home Entertainment
310-369-2249
Domestic Television Media Contact:
Harry Parrish
310-369-1628
Chris Argyropoulos
310-369-1787
Online Media Contact:
Onlinepr @ fox.com
###