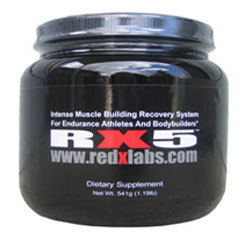 Aurora, CO (PRWEB) October 6, 2007
RX5 is an anabolic recovery agent that was originally developed to be used by endurance athletes and bodybuilders. Its legal, non-prescription status makes it a very desirable supplement among natural bodybuilders in the U.S. While RX5 is not a replacement for a well designed nutrition plan and workout program, it can substantially enhance a weight training program. When used correctly, it will put the user in a prolonged anabolic state that can lead to fast, productive muscle growth.
According to the manufacturer, RX5 can "…put you in a more anabolic state to better equip your muscles to grow or recover faster." Essentially the goal behind RX5 is to give the user a "steady stream of muscle producing testosterone…" This, along with a resistance weight training program and nutrition plan, can result in a substantial gain of lean body mass.
Who Should Use RX5?
Because of the anabolic nature of RX5, it has a wide variety of users from endurance cyclists and mountain bikers to football and baseball players. Men over the age of 18 who take their workouts seriously may look to RX5 to help with muscle growth and strength building. Testosterone based anabolics like RX5 have a wide range of benefits but are mainly used for building extreme muscle mass.
RX5 A Steroid Alternative?
Contrary to popular belief, muscle growth does not take place in the gym when you are working out. In fact, when a person works out, they are actually breaking down their muscles. Muscle growth takes place during the recovery process. Bodybuilders have been using illegal performance enhancement drugs since the late 1950's. This is an obviously dangerous and quite illegal practice. The main purpose behind using illegal steroids is to increase the rate of muscle recovery. Faster recovery means the athlete can get back into the gym sooner. This fact makes anabolic recovery supplements like RX5 the bodybuilders' secret weapon. The theory is, the faster you can recovery from your workout, the faster you can get back in the gym and begin to break the muscle back down: Strength and conditioning coaches know this as the muscle growth cycle.
"RX5 is a excellent anabolic recovery supplement, something every serious athlete should not be without." Says Anthony Robbinson, consultant to Zupplements.com, a retailer of Red X Labs products.
RX5 Cautions
As with all products of this nature, RX5 is not officially endorsed by the US Food and Drug Administration (FDA). In fact, websites who market RX5 make it clear to that the statements contained on their website have not been evaluated by the FDA. They further state that RX5 must be used in conjunction with a nutrition and exercise program. This product is not intended to diagnose, treat, cure or prevent any disease.
RX5 was developed for healthy male adults. Side effects can occur with abuse and therefore this product should only be used while under a doctor's strict supervision. You must be 18 or older to purchase. Currently, RX5 is only found in select gyms across America and online at Zupplements.com.
Zupplements.com specializes in Select, Proven Bodybuilding Supplements and Steroids Alternatives. For more information about RX5 and other unique imports, call toll free 1-888-987-7748.
###