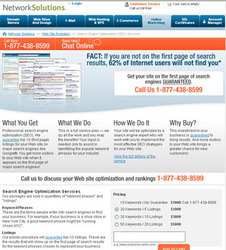 Network Solutions is excited to be participating in such a forward-thinking event such as the eComExpo
Herndon, VA (PRWEB) October 8, 2007
Network Solutions, a leading provider of Internet services to small and medium sized businesses, is giving away a free Top 10 Search Results package at the eComExpo, a virtual tradeshow for e-commerce marketers being held from October 9-11, 2007. This search engine marketing package, valued at $2,800, provides expert search engine optimization needed to get a Website ranked on the first page of search results.
Everyone who visits the Network Solutions booth during this virtual tradeshow can enter to win the Top 10 Search Results package that will be given away at the end of the show to one lucky winner. This online marketing package guarantees "Top 10" (first page) listings for the optimized Web site on major search engines. Network Solutions provides expert search engine optimization services for the Web site being optimized, including site analysis and keyword research.
"Network Solutions is excited to be participating in such a forward-thinking event such as the eComExpo," said Jeff Zimmerman, Vice President of Product Marketing with Network Solutions.
To enter for your chance to win, simply register here to attend the free expo and visit the Network Solutions virtual booth. To learn more about Network Solutions online marketing services, visit NetworkSolutions.com
About Network Solutions:
The original domain name registrar and leader in the web services industry for 28 years, Network Solutions offers a comprehensive line of Internet services for small and medium-sized businesses, including e-commerce software, Web design, Web promotion, pay-per-click advertising, domain registration, and other Internet solutions.
###