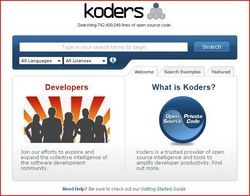 By opening up dW resources to Koders users IBM once again demonstrates market leadership and innovation
Santa Monica, CA (PRWEB) October 8, 2007
Koders™ Inc., the leader in open source and enterprise code search, today announced it has been selected to search source code from developerWorks, IBM's premier technical resource for software developers. The inclusion of developerWorks code in the Koders open source index provides millions of Koders users with an additional resource and helps IBM to reach a previously untapped community of developers who are seeking reusable code for their projects and examples of existing solutions to programming challenges.
IBM developerWorks partnered with Koders because of Koders' experience indexing large code bases in multiple version control repositories. The primary goal at dW is to empower developers with the resources they need to build and deploy applications across heterogeneous systems, and Koders is a critical component of this distribution strategy.
"By opening up dW resources to Koders users IBM once again demonstrates market leadership and innovation", said Darren Rush, CEO of Koders. "We are honored that IBM selected Koders to search the developerWorks code and we look forward to helping IBM contribute to the open source community". All of the dW code resources are now available from Koders, including high-profile projects such as End-to-end Ajax Application Development, Cook up Web Sites Fast With CakePHP, Ajax and XML: Five Common Ajax Patterns, and ClearCase: The Ten Best Scripts. For more information about the IBM developerWorks partnership with Koders, visit http://www.ibm.com/developerworks/ondemand/koders
With the addition of IBM dW code, the Koders open source index now includes well over 700 million lines of high-value code aggregated from public repositories, corporate developer networks, and projects contributed by individual programmers. Koders recently upgraded its core search technology and navigation to help software developers find more relevant and reusable code; in addition to offering optional programming language and license filters, Koders search results are automatically parsed so that users may easily find interface, class and method definitions that address their immediate needs. Additional developer tools available from Koders include free IDE plugins for Visual Studio and Eclipse, free code search widgets that can search individual open source projects, and the Koders Pro Edition for individual developers and teams.
About IBM developerWorks
developerWorks is IBM's premier technical resource for software developers, providing a wide range of tools, code, and education on AIX and UNIX®, IBM Systems®, Information Management, Lotus®, Rational®, Tivoli®, WebSphere®, and Workplace, as well as on open standards technology such as Java™ technologies, Linux®, SOA and Web services, XML, and more. By providing focused and relevant technical information for developers, we offer choices you can apply to building and deploying applications across heterogeneous systems. Using developerWorks, you can take full advantage of open standards and the IBM Software Development Platform in an on demand world. For more information, visit http://www.ibm.com/developerworks
About Koders Inc.
Koders is the leader in code search for enterprises, communities and software developers. Koders solutions allow programmers to quickly find and leverage existing source code assets to bring new software applications to market faster, with fewer defects, and at substantial cost savings. The Koders public website is a free resource for searching open source code. The Koders Enterprise Edition and the Koders Pro Edition both search private source code, and have been adopted by development teams in a broad range of settings, from small ISVs to Fortune 500 companies. Koders is a privately-held company headquartered in Santa Monica, California. For more information, visit http://www.koders.com
Note to Editors: Koders, Koders.com are trademarks or registered trademarks of Koders Inc. All other trademarks are the properties of their respective owners.
###