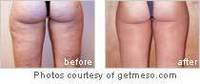 After listing our practice with Getmeso.com, we saw an increase in phone calls up 30%, resulting in actual appointments being made.
Studio City, CA (PRWEB) October 8, 2007
As consumer demand for lipodissolve and mesotherapy, rises, Getmeso.com adds new doctors, medspas and specialists to their directory. Consumers are able to find doctors and health professionals who specialize in over sixty procedures including mesotherapy, lipodissolve, cellulite treatments, SmartLipo (Smart Lipo), Velasmooth, medical weight loss, liposuction, laser hair removal, anti aging, cosmetic surgery, cosmetic dentistry and more.
Aesthetic clinics and med spas are opening up at a phenomenal pace and consumers are searching the Internet for doctors and specialists who are certified to perform these procedures. The Getmeso.com doctor directory, receives over 700,000 hits each month from consumers who are searching for mesotherapy, lipodissolve, SmartLipo (Smart Lipo), liposuction and weight loss professionals..
Each doctor or specialist who joins the Getmeso.com directory receives a basic listing with a complete profile. Doctors and specialists who have joined Getmeso.com have noticed a significant increase in patient reponse.
Dr. Caryl Mussenden from Liposculpture By Design in Baltimore Maryland, MD states, 'Immediately after joining Getmeso.com, we noticed instant results ... Listing with Getmeso.com has resulted in some of the best advertising dollars we have ever spent.'
Dr. Mikel Lo from About Faces Cosmetic Surgery located in Tucson Arizona states, "After listing our practice with Getmeso.com, we saw an increase in phone calls up 30%, resulting in actual appointments being made."
Dr. Debbie Brown from Brownwood Texas states, 'After I listed with Getmeso.com, I noticed an immediate increase in phone calls and bookings. I was quite suprised because I didn't expect that to happen. We are located in Brownwood Texas and have had patients drive as far as 3 hours to see us.'
Why is Mesotherapy and Lipodissolve so Popular?
Mesotherapy, is a minimally invasive, micro-injection technique used to treat patients for a variety of medical and cosmetic conditions. It was invented in 1952 by Dr. Michel Pistor, and is a procedure where medication is injected into the mesoderm, the layer of fat and connective tissue under the skin. In the U.S. the focus of this therapy is largely cosmetic treating such conditions as cellulite, spot fat reduction, rejuvenation of the skin and hair regrowth.
Mesotherapy is considered to be a very effective cellulite treatment in the hands of a certified mesotherapy professional. Cellulite is a skin condition seen commonly in the hips, thighs and buttocks. The cottage cheese appearance or multiple dimples on the skin occurs in over 90% of post pubescent women. It is not related to being overweight, as some people believe, but rather to genetics. When mesotherapy is performed, the cellulite area develops increased blood and lymphatic flow, decreased fibrosis of the connective tissue, and reduction of the fat deposits. The net result is a smoothing of the skin and cellulite reduction
Because of mesotherapy's ability to reduce fat deposits, it is a wonderful alternative to liposuction. The mesosculpting technique uses mesotherapy to reduce spot areas of fat accumulation. For patients who do not wish to undergo the risks of liposuction, mesosculpting or lipodissolve (lipo dissolve) may be the answer.
Lipodissolve is a non surgical medical procedure that involves the injection of a compound called phosphatidylcholine into the skin to dissolve fat. Phosphatidylcoline (PPC) is a naturally occuring enzyme and is the main component of soy lecithin. Lecithin has been medically proven to have the ability to break down fat and reduce cholesterol. PPC has been used for fat removal and cellulite reduction by physicians for several years now as a safe non invasive alternative to surgical procedures such as liposuction. The compound is administered through a series of micro-injections to permanently dissolve the fat in unwanted areas. The compound is delivered directly into the subcutaneous fat through multiple microinjections administered over one to three treatment sessions spaced about six weeks apart. The treatment is meant to dissolve fat , which is removed from the body through normal waste removal. The desired end result is precise body contouring in localized areas. Although similar, lipodissolve is not to be confused with mesotherapy.
Consumers can also see mesotherapy pictures and lipodissolve pictures in the photo gallery at GetMeso.com.
If you are a doctor, medspa or specialist wishing to get listed in our directory or a consumer looking for more information about lipodissolve & mesotherapy and wish to find a doctor or specialist in your area , visit the Get Meso website at http://www.getmeso.com/.
Disclaimer: GetMeso.com is a doctor directory and informational site, and is not intended as a substitute for advice from your physician, specialist or any other healthcare professional. This information is not medical advice, or is it to be construed as medical advice, medical diagnosis, treatment or a cure or removal of any condition. You should always speak with your physician or other healthcare professional before undertaking any medical or cosmetic procedure.
###