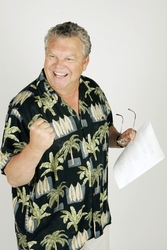 Giving back, teaching, and sharing are integral to the Mc Fadden Process of Self-Empowerment and development of Personal Stardom
Hollywood, CA (PRWEB) October 8, 2007
Veteran actor and "Coach-to-the-Stars" Thom Mc Fadden will launch his highly-anticipated Every-Day-People mentoring website ActingforReal.com on Tuesday, October 9. The new site, dedicated to enriching the lives of the masses, shares practical applications of the tried and true Mc Fadden Process to help readers achieve star status in their every day lives.
Actingforreal.com will provide a daily source of wit and wisdom through Mc Fadden's resourceful online mentoring. Thom shares his 40-plus years of experience as an actor in over 100 movie and television parts -- and in-demand coach to scores of successful actors and business people -- through a daily blog, articles, exercises and other proven tools to assist the reader in overcoming fears and other obstacles that block success and personal fulfillment.
Actingforreal.com goes beyond traditional self-help methods by exploiting through the immediacy of the Internet, a process that is external rather than internal -- teaching not so much "Acting" as Action in a "give it to me Now" setting.
Acting For Real principles are easy to comprehend and empowering. Practical examples of the Mc Fadden Success principles, illustrated through current events from Hollywood and around the globe, permeate Thom's daily blog; providing thought provoking comment, encouragement and sometimes just a good belly laugh.
Key to all Thom's teachings is development of the "Humanities" character and the Acting For Real site is designed to capitalize on an expanded reach in providing a ready and practical source of empowerment to every day people. "Giving back, teaching, and sharing are integral to the Mc Fadden Process of Self-Empowerment and development of Personal Stardom," says Mc Fadden. "Actingforreal.com provides an ideal forum to make contact and interact with more individuals -- the more people I can share these wonderful tools with, the better!" Acting For Real parent company, Lifestand, Inc, reinforces Mc Fadden's commitment to giving back through contributions on all Acting For Real proceeds to the Feed the Children and Mercy Corps foundations.
Acting FOR REAL Launches online October 9, 2007 at 12:00 noon EST: http://www.actingforreal.com
About Thom McFadden
Thom McFadden has had a lengthy and respected career as an actor in television and motion pictures, but is even more fulfilled in his role as Coach. Popularly known as the "Coach-to-the-Stars," he has guided actors, writers, producers, directors and hundreds of other industry professionals to realize their full potential for over 20 years. His dynamic business seminars enrich lives and increase the productivity of corporate executives and employees; helping them strengthen their brands, streamline communications and maximize profits. Thom's breakthrough book, "Acting for Real," introduced the "McFadden Process" to the masses so that every day "real" people can effect real and lasting positive change in their lives by using the strategies and techniques Stars use to achieve staggering success. Thom has worked with dozens of top-name directors and co-starred with top actors in numerous feature films and over 100 television roles. View his credits at: http://www.imdb.com.
# # #