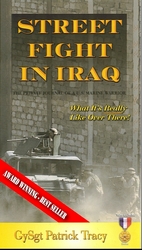 An Angel Rode My Wing
Oceanside, CA (PRWEB) October 8, 2007
Lt. Col. Neil Levin USMC, (Ret), CEO and Publisher, Leatherneck Publishing, Div. of Levin Publishing Group, LLC, today announced that Soldier of Fortune Magazine, the elite and definitive publication for the professional military, government, and commercial trooper, honors Leatherneck Publishing in their forthcoming December 2007 issue. It features significant excerpts from this best seller and award winning book. Says Robert K. Brown, Editor/Publisher of Soldier of Fortune, "'Street Fight in Iraq' chronicles and exposes what is really going on over there. I felt it necessary to bring this important resource to the attention of our 150,000 readers." Established in 1975, Soldier of Fortune Magazine is the industry leader in military and protective services publications.
If you wonder what it's like fighting with the US Marine Corps Expeditionary Forces in Iraq, you are in for a hair raising ride when you read Leatherneck Publishing's latest book release by Gunnery Sergeant, now 1st Sgt Patrick Tracy. A seasoned 19-year Marine Corps Warrior of many battles, GySgt Tracy takes you second by second on heart pounding, breath stopping missions through the streets of Ramadi seeking out the terrorists who hide in the shadows of inhumanity. Around the next corner awaits a surprise ambush, a massive fire fight or a little child wired for your touch. GySgt Tracy is a master at describing each moment as he lived it. He recorded each event in his personal mission log over a seven month tour of duty in one of the hottest combat zones, Ramadi, Iraq.
"Street Fight in Iraq" relates with great candor the unvarnished realities of dealing with day to day combat in and around Ramadi. You will be shocked, fascinated, outraged and frustrated when you read about the fight for Democracy and Peace in Iraq. This book is about Marines who made the journey to combat and the unbelievable events that followed. Called, "down and dirty," the language is harsh, the writing brutally honest and the message clear. This is a definite "must read" for military and civilians alike. This book is available directly from Leatherneck Publishing Online Bookstore,
"Our mission is to provide a venue to every military person, Marine, Army, Air Force, Navy and Coast Guard with a story to tell," says Levin. "We have a commitment to not only publish, but to help each of our authors realize their potential to become the best. Also, we function as a marketing aggregator for independent self publishers to expand their distribution in the market place through our book distribution operations."
To view a 6 minute video of the Leatherneck Publishing Story click on the following link: The Leatherneck Publishing Story
"Street Fight In Iraq" is published by Leatherneck Publishing located in Oceanside, CA This book is available directly from Leatherneck Publishing Online Bookstore, or your local bookstore. Dealer discounts offered through Charles Levy Home Entertainment Book Distribution and Baker &Taylor. Other recently published books, "An Angel Rode My Wing," "A Corpsman's Legacy" and "Of Ice and Steel" are also available.
Review copies are available to accredited media venues by calling (760) 978-4122. When requesting via e-mail, please provide your name, title, organization, address and phone number.
# # #