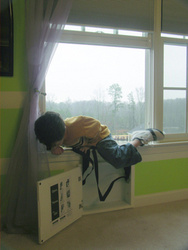 We have a commitment to home safety, especially residential fire safety. The Great American Fire Drill will give Sacramento kids the education needed to prepare their own families for an emergency
Atlanta, Ga. (PRWEB) October 8, 2007
Today, many of Sacramento's elementary school students will join other students nationwide as they take part in the Great American Fire Drill. Students at Orchard Elementary will attend a fire safety seminar led by retired California State Fire Marshal James McMullen that will teach children how to create and practice a home fire escape plan. Sponsored by PEARL Protected®, creators of the patented Permanent Escape And Rescue Ladder (PEARL®) for two and three-story homes, the Great American Fire Drill will be hosted by KB Home of Northern California at one of their model homes in the The Hamptons-Montauk community at 10:00 a.m. (5445 Duck Walk Way, Sacramento, CA 95834).
According to the National Fire Protection Association (NFPA), nearly 40 percent of Americans do not have a home fire escape plan and only 13 percent of those that do have a plan actually practice it. This is a grim reminder that many of the 15,000 deaths and injuries caused by house fires each year could be prevented with proper fire escape planning.
The Great American Fire Drill, which takes place during Fire Prevention Week, will educate kids about home fire safety while providing an opportunity for them to create their own home fire escape plans. The educational seminar will also introduce children to new fire safety innovations, like the PEARL permanent escape ladder. Each child will be given interactive materials like coloring books and stickers as a reminder to lead their own family's efforts to create a residential fire escape plan.
Recently, KB Home became one of the first home builders in Northern California to offer permanent escape ladders in its two and three-story homes. With a commitment to home safety and family-friendly building designs, KB Home has become a fire safety pioneer in the region.
"We have a commitment to home safety, especially residential fire safety. The Great American Fire Drill will give Sacramento kids the education needed to prepare their own families for an emergency," said Barry Grant, KB Home, Sacramento division president.
The company also invites children of all ages to submit a copy of their home fire escape plan as part of the Escape to Safety coloring contest. Contestants can download instructions and a fire escape plan template through the PEARL Protected website at http://www.pearlprotected.com.
The NFPA has observed Fire Prevention Week since 1922, making it the longest running public health and safety observance on record (Source: National Archives and Records Administration's Library Information Center). It was established to commemorate the tragic Great Chicago Fire of 1871 that killed more than 250 people and burned more than 2,000 acres. For more information and education tools for this year's campaign, visit http://www.nfpa.org.
Since PEARL's debut in October 2005, it has become one of the most recognized home safety products in the marketplace. PEARL has received the Home Safety Council's 2006 Product Innovation Award and has been featured on multiple episodes of ABC's Extreme Makeover: Home Edition. PEARL has been also been showcased on NBC's Today and CBS's The Early Show.
For more information about PEARL Protected, visit http://www.pearlprotected.com.
About PEARL Protected
Headquartered in Atlanta, Georgia, PEARL Protected is redefining the standards of home and fire safety through its patented, breakthrough product - PEARL - a revolutionary Permanent Escape And Rescue Ladder that can be quickly and easily deployed in the event of a residential fire or other home emergency. It is currently available through a variety of channels, including the company's national installation partner - Mr. Handyman, homebuilders, building material dealers, security companies, remodelers and other maintenance specialists. PEARL can also be ordered directly through the PEARL Protected website (http://www.pearlprotected.com) or via phone at 800.374.5737.
###